Large Deck Umbrellas
Protect the health of your patrons' vision, skin, and comfort by including large umbrellas on the deck of your venue. American Holtzkraft offers a varied selection of site furnishings to ensure outstanding functionality and aesthetic appeal for your venue and brand.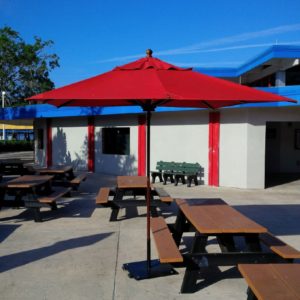 American Holtzkraft considers Mount Pleasant Mills, PA, home, as we have since we began operations in 1985. Born from innovation, we make good use of the best designs in the industry, the brilliance and workmanship of the Pennsylvania Dutch population, and the strength and quality of the local Northern Ash hardwoods.
With these three primary attributes, we produce the industry's premier market umbrellas, cabanas, daybeds, and other custom site furnishings.
The products we offer for sale are Made in America and built to last. Not only do our products resist fading, staining, tearing, and other damage, but we also provide refinishing and repair services for our products and those made by our competitors.
Provide Shade for Patron Protection
Large deck umbrellas ensure patrons enjoy their time on your property's exterior despite the brightness of the sun and the heat of summer days.
The canopy provides additional opportunities to cement branding and catches the eye of customers. We make it easy to custom design the umbrella with your choice of color, stitching, pleating design, and even logo placement.
Standard Features of American Holtzkraft Wooden Market Umbrellas
Composed of Northern Ash hardwood, American Holtzkraft market umbrellas will last season after season. The solid ash pole is protected with an aluminum flush pole guard, slow-kiln drying of the wood, and multiple layers of finish.
The canopies are of equal quality. The strong fabric is available in various colors and designs and attached with sealed solid brass hardware to the multi-laminated hubs and finials.
Ingenious Design
The innovative design that inspired our first market umbrella was to allow for full rotation of the umbrella around the axis of the steel-reinforced pole. This key feature allows the umbrella to mitigate the pressures of wind and has been patented by American Holtzkraft.
Other features that you can expect to find with our market umbrellas include all of the following:
Long-lasting, protective varnish

Multiple layers of marine-grade sealant for maximum weather protection
Specially formulated varnish for UV screening
VOC compliance in line with clean air standards

Wood finishes

Add color and protects from moisture
Wood grain display and long-term protection
Finish options include Teak, Natural Mahogany, Stonehenge Gray, White Wash, Black Enamel, and White Enamel
Standard Features of American Holtzkraft Aluminum Market Umbrellas
The aluminum market umbrellas made by American Holtzkraft offer lasting strength for hospitality businesses. The solid aluminum hub has a sleek design, and the ribs attach to the hub by way of stainless steel pins and screws.
The features that you can expect to find with this umbrella include a brushed finish, a marine-grade aluminum pole, a rotating canopy, stainless steel hardware, neoprene spacers, double-stitched, reinforced pockets for canopy connection, and a solid aluminum finial.
American Holtzkraft customers can also count on us to provide custom-created daybeds, cabanas, and other site furnishings to equip the outdoor spaces of any hospitality venture appropriately.
For large deck umbrellas or other site furnishings, contact American Holtzkraft. Our company offers shade, comfort, and protection for guests that will withstand the tests of time and weather. Make the right choice for your business's aesthetic, bottom line, purpose, brand, and maintenance needs. Learn more today by calling (570) 539-8945 or browsing our online catalog.