Large Outdoor Patio Umbrellas
Large patio spaces in hospitality venues need substantial outdoor umbrellas for group events and services. American Holtzkraft designs and produces market umbrellas in various shapes and sizes for all possible hospitality needs. Choose to shop with us for long-lasting, custom umbrellas, daybeds, cabanas, and other site furnishings.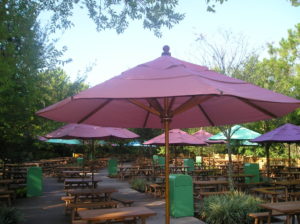 American Holtzkraft serves a variety of hospitality businesses:
Theme parks
Sea-front hotels and resorts
Fine-dining restaurants
Country clubs
Water parks
Hotel pool decks
Event spaces
Cruise ships
Much more…
Not only can we help as you select the ideal market umbrella for your business, but we can also supply layout suggestions and the best features we've identified for similar clients whom we've helped over the years.
Whether you're setting a table for honorees, an event table for a wedding or fair, or want to shade guests at an extended occasion, the math required to order the correct number of umbrellas can be confusing. Establish the square footage, an estimated number of guests, the size of the tables, and the plan for the space; then give us a call.
If the purpose of your patio umbrellas is to provide shade for guests, be aware that the shade will move positions as the sun changes position in the sky. To provide ample shade all day long, add 2' of coverage to the canopy beyond the specific area you need to shade.
Custom Features for American Holtzkraft Market Umbrella Purchases
Size
Shape
Color
Design
Pleating
Trim
Stitching pattern
Logo and logo placement
Pole type
Pole finish
Stand and base system
The market umbrellas we create and produce are marked by high-quality construction, innovative design, and durable materials. From casual to elegant, whimsical, or lavish, tailor the market umbrellas purchased to the setting's atmosphere and the brand's identity.
The Best Producer of Custom Site Furnishings
American Holtzkraft, the best producer of custom site furnishings in the U.S. and perhaps the world, has been busy revolutionizing the field since 1985. Female-owned and headquartered in Mount Pleasant Mills, PA, we are a small business with a global footprint due to the absolute quality of our products and our history of customer satisfaction.
Commercial patio and market umbrellas, canopies, cabanas, daybeds, and custom site furnishings made by American Holtzkraft are safe and built according to your needs and preferences. Customers who rely on us know that we will deliver satisfactory results, going the extra mile to do so whenever occasional mistakes occur.
Wooden versus Aluminum Market Umbrellas
American Holtzkraft produces both wooden and aluminum market umbrellas. Whichever you find appropriate for your business, you can be confident in the quality of our products.
We create hardwood market umbrellas primarily made from Northern Ash timber, but we also offer other hardwood options, including Plantation Grown Teak and Western Cedar. Finish shades include teak, natural, mahogany, Stonehenge gray, whitewash, black enamel, and white enamel. The woods we use are slow-dried via kiln and then sealed with multiple layers of marine-grade sealant.
Customers may also choose aluminum poles for their market umbrellas, and we can offer a brushed aluminum finish or a powder coat finish for this option.
Large or small outdoor patio umbrellas from American Holtzkraft allow you to maximize the potential of your venue's space. We invite you to explore our catalog online, call us with questions or for help with an order at (570) 539-8945, or contact us via email at [email protected].