Large Outdoor Umbrellas
Do you need large outdoor umbrellas for the event spaces at your hospitality venue? American Holtzkraft produces a wide range of market umbrellas, cabanas, daybeds, and other site furnishings to meet all the needs of furnishing exterior spaces of water and theme parks, hotels, resorts, hotels, restaurants, country clubs, cruise ships, and other hospitality businesses.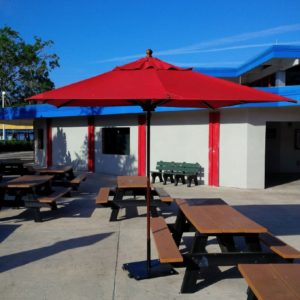 The brilliance of American Holtzkraft comes as a blend of innovative excellence, quality materials, and skilled craftsmanship. We operate out of Mount Pleasant Mills, PA, where we leverage the natural and human resources of the area, including the Northern Ash hardwoods and the expertise of the Pennsylvania Dutch population. We take great pride in our work and fully stand behind our products.
American Holtzkraft can provide a range of products and services. In addition to delivering custom-built site furnishings, we offer inspection, part replacement, repair, refinishing, and sewing services. We're site furnishing experts and will help you consider the specifics of your space and purpose as you choose exactly what you need in wooden or aluminum market umbrellas.
The Choice of Quality – American Holtzkraft
American Holtzkraft is a company that proudly produces market umbrellas that meet a rigorous standard of quality. The skilled professionals who craft our products don't cut corners, and we don't skimp on the quality of our materials either. Every effort is taken to earn the prestige of a Made in America label. It's more than location; it's a matter of pride in our efforts.
The materials and methods we use at American Holtzkraft produce site furnishings built to last. For example, northern Ash hardwoods are used to make baseball bats; the wood is the hardest of all the hardwoods that grow in North America. We also use a design that allows the canopy to spin around the axis of the pole, which is steel-reinforced, to minimize the strain wind puts on the canopy. The innovation of the rotating canopy is actually one of our patented features.
The market umbrellas you buy from American Holtzkraft, no matter how small or large, will be subject to all types of conditions, primarily sun and rain. The fabrics we use to make our market umbrella canopies are resistant to fading, staining, mildewing, and tearing. The UV-resistant fabric is also a quality layer of protection between patrons and the sun.
In addition to Northern Ash hardwoods and steel-reinforced poles, we also choose the best quality materials for the rest of the components. Stainless steel, solid brass, and aluminum pieces comprise the market umbrella, and it is carefully designed to prevent wear from use.
The fabric that composes the canopy isn't just durable; it's also diverse. You can choose various options to create your company's American Holtzkraft market umbrellas. Fabrics in a comprehensive catalog of colors, designs, textures, and other differences are available, and the fabrics can be sewn in your preferred style with valances, trims, split panels, or other pleating. We use double stitching for secure attachment and high-grade thread. Your company's logo can also be printed directly onto the canopy for maximum branding effort.
Travel the world and see American Holtzkraft outdoor umbrellas, small and large, at hospitality venues all over. We offer a wide range of shapes, square, rectangle, decagon, or octagon "round," and sizes and customization opportunities. If you need to learn more about any of our products, browse our catalog or call (570) 539-8945 to speak with our customer support team.