Large Patio Umbrella with Stand
Transform a particular zone of your venue's exterior with the placement of a large patio umbrella with a stand, both made by American Holtzkraft. Choose an assortment of market umbrellas, cabanas, daybeds, and other site furnishings for an appropriately outfitted venue exterior.
American Holtzkraft Background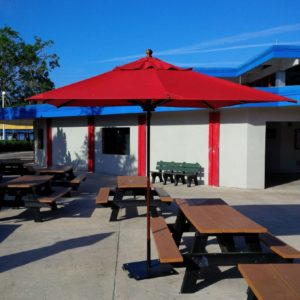 In 1985, American Holtzkraft was born from an idea about the durability of market umbrella design. We're a small, female-owned business headquartered in Mount Pleasant Mills, PA. Innovation and quality lead our production, and we hold six different patents related to market umbrella design.
American Holtzkraft production employs advanced design plans, fine materials, and expert craftsmanship for remarkable results. The Northern Ash hardwoods, which grow abundantly in the area, are not just the hardest hardwoods used for baseball bat production. They're also the default material for our wooden market umbrellas. The area is also the source of the Pennsylvania Dutch population which provides the expert craftsmanship we rely on for our hand-crafted products.
We are firmly committed to customer service and satisfaction. Clients expect perfection in our products, and when we occasionally make mistakes, we make them right each and every time.
Establish a Presence with Commercial Umbrellas
An open outdoor space at a venue requires a visual anchoring element, which market umbrellas can provide. These systems also offer comfort and protection for patrons from UV exposure, the harshness of glare, and light precipitation. We even offer lighted market umbrellas for an impression after dark.
American Holtzkraft market umbrellas have the design, construction, and materials needed for prime functionality. In addition, our umbrellas last season after season and are easily cleaned and maintained.
Quality and personalization are hallmarks of American Holtzkraft products.
The market umbrellas and other site furnishings are tailored to suit the venue in question. So why not take advantage of our team's expertise when planning your purchase to maximize the impact and functionality of your order?
Wooden or Aluminum Poles
Market umbrellas can be made with either a wooden or aluminum pole. However, most permanently placed umbrellas are made of Northern Ash hardwoods, and the ones that need to be mobile are often aluminum.
Wooden umbrellas are primarily made of Northern Ash hardwoods, but we also make other timber options available, including Plantation-Grown Teak and Western Cedar. The wood is slow-dried via kiln and sealed with multiple layers of marine-grade sealant in the shade of your choice. Options include Teak, Natural, Mahogany, Stonehenge Gray, Whitewash, Black Enamel, and White Enamel.
The market umbrella canopy is helpful for much more than protection and establishing the exterior layout. It's also great for branding purposes. The tone of your business, be it elegant, casual, fun, or serious, can be cemented with the colors and design chosen for the canopy. In addition, we can custom create a canopy with your preferred colors, pattern, pleating, stitching, and even logo placement.
The ability of American Holtzkraft market umbrellas to stand up against strong winds is the primary genius of our products. Dual venting of the canopy and its ability to fully rotate around the pole mitigate the pressures of wind against the canopy, allowing it to withstand winds up to 74.5 mph during wind tunnel testing.
Our team will be happy to lend a hand with planning the best market umbrella for your venue and will do everything possible to surpass your expectations with product results and service.
If your venue requires a glamorous and functional large patio umbrella with a stand or other site furnishings, reach out to American Holtzkraft. We provide a broad catalog of site furnishings and repair and refurbishment services. Speak with our team today by email at [email protected] or call (570) 539-8945.