Large Pool Umbrella
Make a statement at your hospitality venue with a large pool umbrella from American Holtzkraft. Our site furnishings improve the atmosphere and design of all of our clients' venues. The quality of our designs is sure to impress.
American Holtzkraft was established in 1985 as a female-owned small business with an eye toward elevating the standards of the market umbrella industry.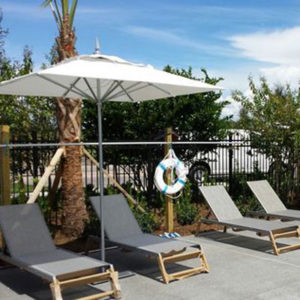 We focus on using the best quality materials, including Northern Ash hardwoods and the skill and eye of the local Pennsylvania Dutch population. Hospitality venues with an eye for custom site furnishings count on American Holtzkraft.
Hotel pools are generally the highlight of a venue's outdoor space. A significantly sized market umbrella with the right color and shape will draw the eye of the patrons. This design aspect can cement the branding and make quite an impression on the guests that enjoy the space. And, this impression will be the type that you want to make.
The custom designs offered at American Holtzkraft are simple to arrange and quite effective. The color, design, shape, size, stitching, fabric pleating, and logo placement are all up for personalization. Give our team a call to fashion the ideal market umbrellas for your hotel pool or other hospitality space.
The Superiority of American Holtzkraft Market Umbrellas
The safety of our market umbrellas is the key priority of the design. Our stands include versatile options to suit various environments, but we do not produce potentially hazardous cantilever umbrellas. Our most wind-resilient umbrella is proven to remain damage-free in winds up to 74.5 mph. This model has both dual venting and a rotating canopy.
The market umbrellas that we produce at American Holtzkraft offer all of these benefits:
Strength
Durability
Smooth functioning
Custom options
Refurbishment potential
Easy maintenance
The canopies of our umbrellas are made of textiles that resist fading, the permeation of UV rays, heavy soiling, mold and mildew growth, tearing, etc.
Custom orders from American Holtzkraft provide a great depth of choice for the design of hospitality venue outdoor spaces. In addition to the canopy, you can choose whether you prefer wooden or aluminum poles.
The wooden umbrella poles are made of the hardest hardwoods, the Northern Ash tree. We kiln-dry the poles, seal them, and apply multiple layers of finish in the shade of your choice for the ultimate lifespan. Aluminum flush guards for the pole are also used to accommodate any swelling or shrinkage. Your finishing shade choices include all of the following:
Teak
Natural
Mahogany
Stonehenge Gray
White Wash
Black Enamel
White Enamel
Refurbishment for a Second Life and Significant Savings
In addition to creating new American Holtzkraft market umbrellas, cabanas, daybeds, and other site furnishings, we also provide refurbishment services. Our goal is to help every client stretch their dollars and design their ideal market umbrellas and site furnishings.
A large hotel pool area requires an umbrella proportionate to the pool. American Holtzkraft offers a wealth of choices, all of which are of superior quality, function, and personalization. Learn more by calling (570) 539-8945, emailing us with queries or orders at [email protected], or browsing our online catalog to see what designs pique your interest or seem most in line with your company's needs. We can use this baseline to create your ideal product!