Large Rectangular Market Umbrellas
American Holtzkraft creates and provides large rectangular market umbrellas for various hospitality businesses. Whether your venue hosts large events like weddings, conventions, parties, or other celebrations, an outdoor setting creates a situation that requires protection from the sun's glare, and we offer safe, high-quality, and appealing products.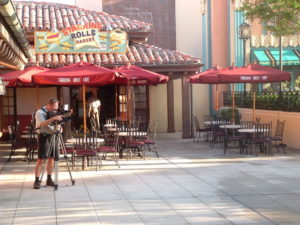 As an essential feature of your venue, market umbrellas are widely available, but American Holtzkraft is the best option when you compare our qualities against any of the competition. We offer market umbrellas, cabanas, daybeds, and other custom site furnishings for all-sized businesses worldwide.
Suitable Accommodations for Every Type of Event
American Holtzkraft provides two options for rectangular market umbrellas:
Model #716 6' x 8' –  Rectangular Umbrella (1-1/2" Steel Reinforced Pole)
Model #718 8' x 10' – Rectangular Umbrella (2" Steel Reinforced Pole)
The market umbrellas chosen by venues need to be appropriate for the functional and aesthetic needs of the space. American Holtzkraft commercial umbrellas are available in various shapes and sizes to meet all functional requirements. In addition to rectangular market umbrellas, we offer square, octagonal, "round," and decagon options.
As you plan to order the best umbrellas for your business, consider the space you need shaded and add two additional feet on all sides to accommodate the sun's movement throughout the day.
Suitable Maintenance Demands for Busy Hospitality Venues
Hospitality businesses are demanding. Meeting the needs of numerous guests requires industry and consistency. Therefore, these venues' products must be as easy to use and maintain as possible. Our umbrellas are highly functional, durable, and easily cleaned. Many designs are easy to service in the field for a seamless experience.
The Quality and Value of American Holtzkraft Market Umbrellas
Affordability and quality come together to equal value, especially with American Holtzkraft market umbrellas. Our clients see this value as they use our products season after season – clear evidence that the investment in our products is well worth it. Dealing with us, you also gain incredible customer service. We support every sale, rectifying mistakes when they occur, as infrequently as they might be.
Quality is evident in our market umbrellas down to the last detail; we blend innovative design, expert-level craftsmanship, and the best materials available.
Reasons for Choosing American Holtzkraft
American Holtzkraft has offered American-made site furnishings for all hospitality venues since our establishment in 1985. A brainchild of innovation, we are grateful to incorporate the local Pennsylvania Dutch population's expertise for our handmade goods and the local natural hardwoods for materials.
The six different patents we hold indicate the extent of our innovation, and we're proud to offer the most wind-resilient market umbrella on the market. Wind-tunnel testing has proven these umbrellas to withstand 74.5 mph winds before experiencing any damage. This factor relies on the completely rotating canopy and dual venting that allows for the full flow of winds through the canopy instead of against it.
For small, medium, or large rectangular market umbrellas, turn to American Holtzkraft for quality and personalized products. To see the standard options available, we welcome you to browse our online catalog, and you should also feel free to discuss custom possibilities with our team at (570) 539-8945.