Large Windproof Umbrellas
Large windproof umbrellas from American Holtzkraft are essential for important outdoor events, making us the go-to source for site furnishings for high-end hospitality venues all over the world. From hotels to theme parks, water parks, fine-dining restaurants, and more, the hospitality sector comes to American Holtzkraft for quality, custom exterior pieces that meet specific needs aesthetically and functionally.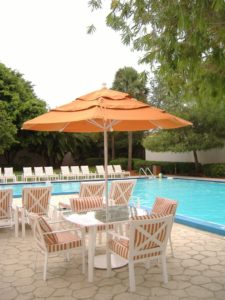 The brilliance of American Holtzkraft is three-fold. Since our founding in 1985, we have been female-owned and made use of the best:
Materials – Northern Ash hardwoods, marine-grade finishes, aluminum, stainless steel, etc.
Design – six different patents and design that produces the most wind-resilient umbrella on the market
Craftsmen – the Pennsylvania Dutch population for hand-crafted excellence
American Holtzkraft market umbrellas are well-made, easily maintained, and long-lasting. With little care, your products will last for several seasons, and they have the kind of strong bones that support refurbishment for second and third lives.
Refurbishment and repair of our products and those of our competitors are additional services you'll find with us. We have a dedicated space of over 100k just for this purpose.
Design an Atmosphere for Exterior Spaces
Market umbrellas and other site furnishings are essential to outdoor commercial spaces. The protection of the canopy keeps patrons shaded from dangerous UV rays and stifling glare, and the substance and appealing aesthetic of the umbrella anchor the overall exterior design.
The aesthetic of the market umbrella can be custom designed with the colors, pleating, stitching, and logo placement of your choice. Create an atmosphere of elegance, fun, sophistication, or whimsy with the planning of your custom market umbrella. Our team can assist with design, and we can create an exclusive design used only by your company.
This option, lowkey and subtle as it may be, is highly effective as a tool in a more extensive branding campaign. It will firmly cement the brand and its image in the mind of patrons.
Market Umbrellas at Their Finest
American Holtzkraft market umbrellas may have a wooden or aluminum pole. We primarily employ the hardest North American hardwood, the Northern Ash, for our wooden poles, but we also offer other timber options, including Plantation-Grown Teak and Western Cedar. These wooden poles are slow-dried within a kiln and sealed multiple times with marine-grade sealant in the shade of your choice.
The canopy fabric and thread that we use, while diverse in color and pattern, are of the highest quality. They're marine-grade, resist fading, avoid staining, prevent mildew growth, and clean up easily.
The wind resistance of our umbrellas stems from their ability to fully rotate around the pole along with dual venting of the canopy. These measures reduce stress on the canopy since the wind flows through it rather than against it. During wind tunnel testing, this market umbrella can withstand winds up to 74.5 mph before experiencing damage.
By choosing aluminum poles for your market umbrellas, you will have a durable and modern design that is more easily maneuvered than the wooden option.
We invite you to check out our online catalog to see the small and large windproof umbrellas that American Holtzkraft produces. From the awards we have received for design quality to the worldwide footprint of our small company, our expertise is evident. Begin your order planning today by calling (570) 539-8945 or emailing [email protected].