Large Wooden Patio Umbrellas
Large wooden patio umbrellas designed and produced by American Holtzkraft will surpass your expectations. They deliver strength, longevity, visual appeal, and functionality that will meet the needs of your venue and impress your patrons.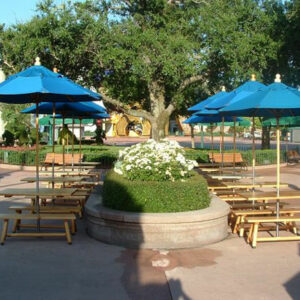 Hospitality businesses of all sorts find appropriate site furnishings with American Holtzkraft. From high-end resorts to event spaces, hotels, beach clubs, cruise lines, country clubs, theme parks, restaurants, and water parks worldwide, count on us to provide incredibly designed and crafted commercial umbrellas, daybeds, cabanas, and site furnishings.
Wooden Umbrellas from American Holtzkraft
A wide range of market umbrellas are available from American Holtzkraft. As small as 5′ to as large as 15′, neither size nor shape is an issue. Choose from octagon (round), decagon, rectangular, and square. The correct shape will mirror the space you're shading and the furniture and architectural features in the area.
Of special consideration regarding American Holtzkraft market umbrellas is the design features a rotating canopy and dual venting. The design allows a full rotation around the axis and the wind to flow through the canopy. These two features mean that winds are less likely to place damaging stress on the umbrella. Wind tunnel testing has proven the umbrella to resist damage up to winds of 74.5 mph.
When you choose a wooden pole for your American Holtzkraft market umbrellas, the timber is usually Northern Ash, although we offer alternatives including Plantation-Grown Teak and Western Cedar. Our timbers are dried with a kiln, cut lengthwise, and laminated with marine-grade glue.
These poles also receive several layers of finish in the shade of your choice:
Teak
Natural
Mahogany
Stonehenge Gray
White
Wash
Black Enamel
White Enamel
Standard wooden poles are 1 ½", 2″, or 2 ⅜" in diameter. These sturdy poles resist degradation and provide strength to support the canopy of your umbrella.
Once you select the umbrella shape you require, how do you determine the best size? We suggest measuring the space to shade and adding an extra 2′. This easement will keep the area shaded even as the sun's position in the sky changes throughout the day. Our team can assist as you identify the ideal shape, size, and number of market umbrellas.
Shop with American Holtzkraft
American Holtzkraft, since 1985, has produced some of the most advanced, high-end market umbrellas available for purchase. We are a female-owned small business with a dedication to client satisfaction. Our headquarters in Mount Pleasant Mills, PA, offers us the ideal complements to our ingenious design: natural hardwoods and skilled artisans within the Pennsylvania Dutch population.
The efforts of American Holtzkraft prioritize safety first, followed by customer satisfaction that comes from top quality, attention to detail, and customization opportunities.
Beyond market umbrellas of all sizes, cabanas, daybeds, and custom site furnishings, we also offer refurbishment and repair services and SAM visits (Florida clients only). If you have used pieces with good bones, send them our way for a new lease on life, saving you money and keeping them out of the landfill.
For top-tier large wooden patio umbrellas or other site furnishings, contact American Holtzkraft by email at [email protected] or at (570) 539-8945. You can explore your options further by browsing the online catalog or checking out the project gallery.