Luxury Outdoor Patio Umbrellas
Incorporate a sense of luxury in hospitality venues' outdoor spaces with patio umbrellas from American Holtzkraft. We design and manufacture a plethora of custom site furnishings including market umbrellas, daybeds, cabanas, and more. As a leader in the hospitality site furnishing industry, venues from around the globe rely on us to surpass all expectations.
The Necessity of Commercial-Grade Outdoor Umbrellas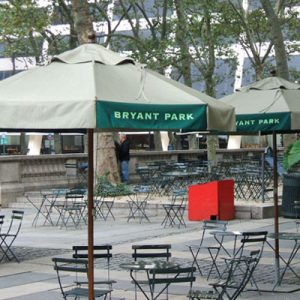 The catalog of market umbrellas produced by American Holtzkraft consists of a wide array of outdoor umbrella models in order to meet all hospitality businesses' needs. A significant range of sizes are available, and we offer rectangle, square decagon, and octagon "round" market umbrella shapes. By choosing the most appropriate size and shape market umbrella, your patrons will be protected from the sun's glare, heat, and UV rays while elevating the visual appeal of the overall design.
Take full advantage of outdoor spaces by making them welcoming for your patrons with American Holtzkraft market umbrellas.
American Holtzkraft's construction of market umbrellas focuses on using the height of materials and design, with rigorous standards to promote usability and durability. We put safety first, followed by durability. Rest assured that when you purchase from American Holtzkraft, your site furnishings will serve you well, season after season, for many years to come. 
Market umbrellas are so diverse because they're used in so many different environments and by various types of businesses. We regularly serve the needs of restaurants, resorts, hotels, theme parks, water parks, country clubs, cruise ships, event spaces, kiosks, and more. Ultimately, our goal is to provide each customer with site furnishings that suit the specific needs of the space and its patrons.
We make center-pole market umbrellas. Customers can choose between a wooden or aluminum pole, and they can custom design the canopy that extends from it. Our umbrellas can be up to 15' in diameter and in four different shapes, ideally reflecting the shape of the other furniture in the space and the area that needs to be shaded.
Market umbrellas built by American Holtzkraft are hand-crafted here in the US according to the specifications you choose. Aluminum or wooden poles with your choice of finish and the color, pattern, pleating, stitching, and logo design and placement of your choice for the canopy are the primary customizations that we offer.
Count on us to provide site furnishings that work well for your hospitality venue's day-to-day operations and visual design.
Operating out of Mount Pleasant Mills, PA, American Holtzkraft enjoys proximity to the incredible workmanship of the Pennsylvania Dutch population in the region as well as the Northern Ash hardwoods grown here. This hardwood is the hardest of the hardwoods grown in North America and is used for baseball bat production. We also offer Western Cedar and Plantation-Grown Teak for those who would like another wood.
American Holtzkraft holds six different patents:
Fan umbrella

Misting umbrella

Two-piece self-locking pole stand

Rotating canopy umbrella

Automatic opening umbrella

Thatch umbrella
If you're shopping around for various site furnishing producers, American Holtzkraft encourages you to check out our online catalog and project gallery. The commitment that we have to customer service is absolute; no customer goes away unhappy when dealing with American Holtzkraft. 
The luxury outdoor patio spaces of your hospitality venue require umbrellas like those American Holtzkraft provides. Discover the ideal design for your business with the guidance of our team by calling (570) 539-8945 or emailing [email protected].