Luxury Resort Outdoor Umbrellas
Are you in search of outdoor umbrellas worthy of a luxury resort? Look no further than American Holtzkraft. We offer various commercial umbrellas, cabanas, daybeds, and other made-to-order site furnishings that meet the needs of all types of hospitality venues.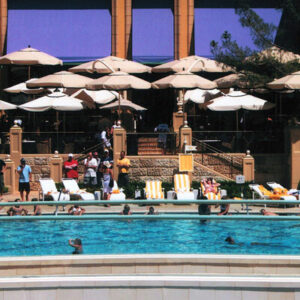 Headquartered in Mount Pleasant Mills, PA, American Holtzkraft is owned by women and promotes innovative designs. We create our advanced furnishings by leveraging human and natural resources. The Pennsylvania Dutch craftspeople who build our furnishings and the materials we choose are the best available, resulting in world-class site furnishings.
When you choose American Holtzkraft, you can expect certain features as standard and others as optional. Two things that are never optional are safety and quality. We've won the ADEX awards in recognition of our designs several times.
Expectations for American Holtzkraft Market Umbrellas:
Composed of the best available materials – wood, aluminum, stainless steel, and solid brass
Offered in a variety of sizes and shapes – square, rectangle, decagon, and octagon "round" canopies
Center-pole positioned market umbrellas, no cantilever umbrellas available due to safety issues
Slow-dried wooden poles treated with kiln drying and several layers of marine-grade finish
Finish options include teak, natural mahogany, Stonehenge gray, white wash, black enamel, and white enamel
Outdoor-appropriate finish with high gloss, durable, and flexible finish
Wooden poles made of Northern Ash, Western Cedar, or Plantation-Grown Teak
Aluminum poles are available in brushed or powder finish
Laminated pole and aluminum flush guard to prevent warping
Multi-laminated finial
Connecting hardware made of brackets, grommets, and screws made of solid brass
Installation of screws carefully flush to keep ripping from occurring
Solid brass eye screw and chain to connect the positioning pin
The rib joint connection is via stainless steel self-locking acorn nuts.
Optional Features for American Holtzkraft Market Umbrellas:
Automatic opening
360° canopy rotation
Double-vented canopies
Stainless steel hardware trim
Fire-retardant textile treatment
Center-positioned, reinforced, laminated pole with ⅜" galvanized steel pipe
A composition that comes with various wood tones, finishes, and gloss protection
Adjustable pole length and flush guards in various lengths
Wide range of fabrics in numerous colors, stitching patterns, pleating, logo design, and logo placement
Lighting choices available
Misting options
Thatch canopy options
Fan umbrellas
Exclusive use rights for your uniquely designed market umbrellas, cabanas, and daybeds.
Refinishing and Repair Solutions by American Holtzkraft
Full site furnishing services from American Holtzkraft include refinishing and repair. Providing worn pieces with a new look allows clients to save money and operate sustainably. Products that we make and site furnishings from our competition are welcome for repair or refurbishment with American Holtzkraft.
When we provide refurbishment, we will strip, refinish and reseal, repair and replace broken wooden pieces, repair the umbrella components, return upholstery to like-new condition, etc. By choosing this service, you can expect to save financially and ecologically.
American Holtzkraft also offers SAM visits to Florida clients. We will visit hospitality venues within the Sunshine State and evaluate the business's safety, aesthetics, and maintenance components. Our visits will help you perfect the exterior spaces of your hospitality venues.
Luxury outdoor umbrellas for resort spaces are just a call away. Dial (570) 539-8945 or email [email protected] to discuss how we can create the ideal site furnishing products and services for your hospitality venue. We offer an incredible gallery and catalog for your browsing pleasure as well.