Market Beach Umbrellas
The market umbrellas that grace the shores of your beach front resort should come from American Holtzkraft. We offer an incredible product designed to last year after year and elevate the tone of the aesthetics and the functionality of the business. Call on us for personalized site furnishings of world-class quality.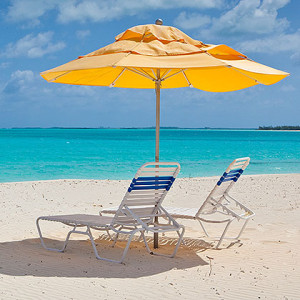 After viewing our online catalog and photo gallery, we'll be confident that you'll recognize the quality of our work. Through our personalized ordering process, clients can extend the pieces into part of their marketing strategy with designs that subtly or explicitly embrace the company brand.
Mount Pleasant Mills, PA is home to American Holtzkraft. This area is rich in resources, and we take advantage of these local jewels. The Northern Ash hardwoods are the hardest woods grown in North America and are used for baseball bat production as well as our wooden poles. We also utilize our advanced designs that first created the idea for our business nearly forty years ago. Finally, the local Pennsylvania Dutch population offers an abundance of expert craftsmen for hand-crafted excellence. When these components come together, the result is American Holtzkraft perfection.
American Holtzkraft produces the best market umbrella available. Our pieces outclass the competition in a number of ways. Allow us to prevent the following highlights of our commercial-grade umbrellas:
We serve all hospitality venues – hotels, resorts, restaurants, theme parks, water parks, country clubs, cruise ships, kiosks, event spaces, etc.

We offer a variety of shapes including octagon "round," square, rectangle, and decagon umbrellas.

We offer market umbrellas up to 15' in diameter.

We create center-post market umbrellas; cantilever models are too much of a risk to safety.

We offer a wide range of bases and stabilization systems to work in all environments, permanently and temporarily.

We produce the most wind-resilient market umbrella made. The features of this model include a dually vented canopy that fully rotates, and they allow the umbrella to stand against 74.5 mph winds before experiencing damage during wind tunnel testing.

Our umbrellas feature canopies made of UV-, fade-, stain-, and mold-resistant fabrics that are easily cared for.

The canopies' color, pattern, pleating, stitching, and logo creation/placement can be personalized.

The pole of the market umbrella can be either wood or aluminum in various finish options.
Market Umbrella Design Incorporation
American Holtzkraft offers the assistance of an expert team that stands ready to help design and incorporate market umbrellas. The ideal choices for your company will be different from another, and we want to see you fully satisfied. Allow us to help ensure that your market umbrella choices suit the design and branding of your business while meeting the functional needs and maximizing the use of space.
Start planning for your purchase by considering the space. Not only should you consider the capacity you need to welcome, but you should also consider the shape of the area and the rest of the furnishings in said area. The shape of the umbrella should mirror the dominant shape.
The umbrella's ideal size can be calculated by measuring the space that requires shade and adding two feet of additional coverage on all sides to provide full shade as the sun's position changes from morning to afternoon.
If you operate a beach resort and need market umbrellas, choose American Holtzkraft. To check out your options, browse our online catalog, and you can place an order by phone at (570) 539-8945 or by email at [email protected].