Market Patio Umbrellas
Key to the market patio umbrellas produced and distributed by American Holtzkraft are the qualities of longevity, sturdiness, and flexibility. All outdoor hospitality venues can be outfitted with the perfect style and size of site furnishings.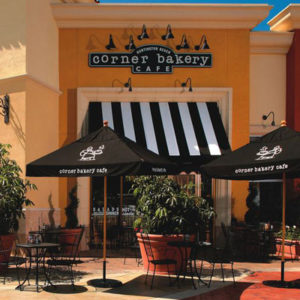 In 1985, American Holtzkraft was born as a brainchild of inspiration regarding commercial umbrella design. Female-owned and quality-driven, American Holtzkraft incorporates the skill of the local Pennsylvania Dutch population as well as the locally grown Northern Ash hardwoods. The results provide hospitality venues with high-quality market umbrellas, cabanas, daybeds, accessories, and custom site furnishings.
All You Need to Know about Purchasing Market Patio Umbrellas
Determining the Right Size
Market umbrellas can have a perfect look, but what good are they without also being the right size?
Umbrella size depends upon width, not height, and we measure on the ribs from tip to tip. To determine the most appropriate size, add two feet to the width of the space that needs to be shaded. The extra coverage will ensure that the area remains protected from sun exposure even as it moves during the day.
Prioritizing Strength for Market Patio Umbrellas
American Holtzkraft market umbrellas have incredible strength thanks to the materials and techniques used to make them. The pole, known as the "original steel pipe reinforced laminated pole," is much stronger than the competition's thinner steel rods. The hardwood that we use, the Northern Ash, is also used to produce baseball bats. We cut, slow dry, and laminate with several layers of marine-grade glue and strong finishing sealant. Our stitching methods, threads, and fabrics are also built to last and resist tearing, fading, mildewing, or staining.
Protecting from the Hazard of Winds
American Holtzkraft produces market umbrellas that are highly resistant to winds. Our patented dual-vented rotating canopy directs winds through the umbrella rather than against it. These measures allow our umbrella to withstand winds of 74.5 mph before experiencing any damage during wind tunnel testing. We provide video documentation of the testing of our various market umbrellas for review upon request.
Customizing Commercial Market Umbrellas
Every commercial endeavor can put its marketing stamp on the market umbrellas purchased. Bring us your ideas, and we'll deliver. Our team even offers help designing and planning your logo inclusion if you choose. The canopy can be made to your specifications from color to design, texture, stitching, pleating, and logo placement. In addition, we offer several types of wood versus aluminum poles and varied finishing options.
Availability of Repair and Refurbishment
Invest in furnishings for your business with a company that supports what they sell. We stand behind every sale and provide a vast service system for our products and those of our competitors.
Not only do we make our products simple to repair in the field, but we also provide all of the following:
Umbrella inspection
Replacement of parts
Repair
Refinishing
Sewing
Our Florida clients can even have us conduct on-site SAMs visits, where we can establish and remediate issues with Safety, Aesthetics, or Maintenance.
Market patio umbrellas from American Holtzkraft will amplify the aesthetic and functionality of your venue's exterior spaces. Allow our team to help custom-create the site furnishings that will meet your needs perfectly. If you'd like to learn more about our products, browse our online catalog or call us today at (570) 539-8945.