Market Style Patio Umbrellas
Market-style patio umbrellas come in all shapes, sizes, colors, and branded details from American Holtzkraft. Full customization and high-quality highlight all of our products, and our service allows clients to rely on our performance 100% of the time.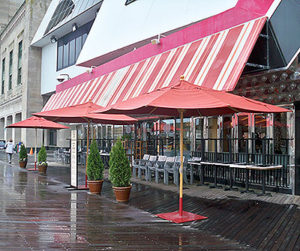 The patio of a restaurant, hotel, or other hospitality venue needs protection from the sun for guests' comfort, and market umbrellas from American Holtzkraft provide the necessary elements. In addition to the functional aspects, market umbrellas provide key advantages to design and branding.
High-End Market Umbrellas from American Holtzkraft
In 1985, American Holtzkraft began producing market umbrellas, and other site furnishings focused on innovative design and quality results. We rely on the locally grown Northern Ash hardwoods and the skilled craftsmanship of the Pennsylvania Dutch population.
Our catalog offers various market umbrella designs and features with plenty of customization choices available.
Our clients can also come to us for repair and refurbishment services. We have a center dedicated to this purpose, and we can inspect, repair, refinish, and re-canopy American Holtzkraft products and those produced by the competition.
The SAM visits we provide to our Florida clientele are another benefit that we supply. These evaluations can identify and fix problems related to hospitality businesses' Safety, Aesthetics, or Maintenance demands.
Market Umbrella Components
The design of an American Holtzkraft market umbrella will begin with the choice between wooden or aluminum materials for the pole portion of the piece. The primary wood option is Northern Ash, but we also offer Plantation-Grown Teak and Western Cedar, among others. Our wooden poles have been kiln-dried and sealed with multiple layers of marine-grade varnish.
The aluminum poles are also protected from exposure. In addition, the aluminum poles facilitate mobile use, and many models are even easy to repair on-site.
The market umbrella canopy is also customizable. Choose the shape and size you need for the shaded space, and then designate the colors, patterns, pleating, stitching, and logo placement. Our team can help you develop a logo and create an exclusive design for your company.
Personalizing the canopy design is exceptionally powerful in terms of branding. Whether the umbrellas grace the patio of a restaurant or a pop-up kiosk, the visual representation of a company becomes part of the memory associated with the experience.
As customizable as market umbrellas are, one thing that isn't up for discussion is quality. Our fabrics resist fading, staining, wearing, and mildewing, and the poles and bases securely support the umbrella. Our umbrellas are even designed to stand up amid heavy winds.
Wind tunnel testing has proven our dual-vented and fully rotating canopy to stand firm against winds up to 74.5 mph before any damage occurs.
American Holtzkraft also produces cabanas, daybeds, and custom site furnishings while providing worry-free customer service. If problems occur, we will make them right because we prioritize customer satisfaction.
The market-style patio umbrellas that you find here at American Holtzkraft will fit into the design of your restaurant, hotel, cruise ship, theme park, or other hospitality venture. We invite you to browse our online catalog or give us a call at (570) 539-8945 to discuss the best plans for your business's needs.