Market Umbrella Base
The base of a market umbrella is as important as every other design component, and American Holtzkraft understands this fact. As a result, we offer many options to accommodate a wide range of environments, so venues need not worry about the stability of their site furnishings.
American Holtzkraft Stanchion Base Systems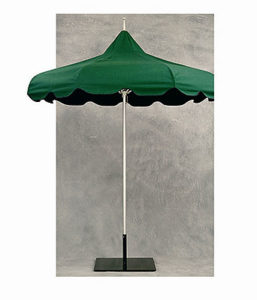 Market umbrella stanchions are appropriate for various settings. We use a patented stanchion base and sleeve insert that works versatilely and functionally. This stanchion system is permanently fixed in the ground, with a drainage hole for water mitigation featured in the system. The tamper-free sleeve keeps the pole upright and locked through two pivot arms when the umbrella is within the assembly. In addition, the stainless steel construction of the base system prevents corrosion and degradation.
We also provide an array of stands and bases that fully support our umbrellas while highlighting their beauty. The four models available are either made of steel or concrete-filled plastic. Putting these base and stand systems together is simple, requiring one carriage bolt. The stands include drainage holes to prevent water collection, and the base features "feet" to keep the base off the ground. These stand and base models come with standard powder coat finishes in black, white, or almond, with other powder finishes available for an additional charge.
Aluminum bases are also available with American Holtzkraft. These systems ship without sand due to the cost of shipping, but you'll need sand to install them appropriately. These systems are easy to install with a bolt to securely hold the sleeve and umbrella. The larger sizes come with wheels for easier mobility, and the base of each model includes feet to keep it off the ground. The standard finishes include black, white, almond, and brushed aluminum, although we offer additional powder coat finishes at additional cost.
Other American Holtzkraft Possibilities
While the base of the market umbrella provides the essential support for the piece, the base is not the only part that matters. Every market umbrella consists of a pole, canopy, hubs, and finial.
At American Holtzkraft, clients choose between aluminum or wooden poles with canopies made in the size they need in decagon, octagon "round," rectangle, or square designs.
The wooden pole market umbrellas are mostly made of Northern Ash hardwoods; however, we offer additional options, including Plantation-Grown Teak and Western Cedar. Kiln-dried and thoroughly sealed, the finish options include all of the following shades:
Teak
Natural
Mahogany
Stonehenge Gray
Whitewash
Black Enamel
White Enamel
The canopies attached to these poles are solid and made of UV-resistant fabric that also avoids stains, fading, or mildewing issues. In addition, size, shape, color, design, pleating, stitching, and even logo placement are fully customizable with American Holtzkraft market umbrellas.
We're proud of our weather-resilient market umbrellas. The fully rotating canopy and dual venting of the canopy make our select market umbrellas able to withstand high winds, up to 74.5 mph, as demonstrated in wind-tunnel testing.
For the best market umbrella and base, speak with the specialists here at American Holtzkraft for a well-made, quality, customized offering. Contact us via email at [email protected] or by phone at (570) 539-8945, and we welcome you to browse our online catalog for even more market umbrella options!