Market Umbrella Stand
The high-end hospitality venues that American Holtzkraft serves expect the best, and that's what we deliver. An American Holtzkraft market umbrella is the epitome of excellence from the tip-top of the finial to the bottom of the anchoring stand and base.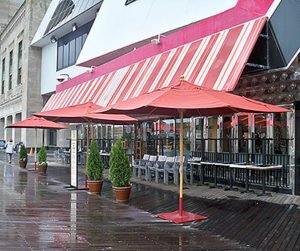 Market umbrellas protect hospitality guests from the sun's glare and UV rays. Aesthetically, it also provides an anchoring element for the design and layers of branding for the company itself.
Made with Quality by American Holtzkraft
The focus of American Holtzkraft is quality. Innovative designs, fine materials, and expert workmanship have garnered a loyal customer following, including clients all over the globe, since the establishment of our company in 1985.
We operate out of Mount Pleasant Mills, PA, and we take full advantage of the natural and human resources in the area. The Northern Ash hardwood is the hardest of the hardwoods that grow in North America, and the craftsmanship of the Pennsylvania Dutch population comes together to produce incomparable site furnishings.
In addition to the remarkable commercial umbrellas we offer for sale, we also produce cabanas, daybeds, and other custom site furnishings. We can also provide repair and refurbishment services to both our products and those of our competitors.
Made with Customization by American Holtzkraft
When clients order market umbrellas from American Holtzkraft, they can designate a plethora of custom specifications, including all of the following:
Size
Style
Shape
Color
Texture
Design
Stitching
Pleating
Logo placement
Pole material
Stand and base system
As you plan your order, we welcome a call to discuss your needs and will help you make the most appropriate decisions given your goals, space, and functional demands.
American Holtzkraft products share a few characteristics beyond quality. They're also easily cleaned, fade- and wear-resistant, and wind-durable. Wind-tunnel testing demonstrates that our market umbrellas withstand winds up to 74.5 mph before experiencing damage of any kind. This hardiness stems from the fully rotating canopy and dual venting that allows winds to flow through instead of against them.
The hardware composing market umbrellas is also of the finest quality. Solid brass and multi-laminated, the hardware components of market umbrellas matter as much as the canopy and pole.
Poles of American Holtzkraft market umbrellas are wooden or aluminum. The wooden poles are typically Northern Ash, but we offer other wooden options, including Plantation-Grown Teak and Western Cedar.
The stanchions, stands, and bases we provide to support our market umbrellas are just as important. We offer systems that work for every possible environment, both permanent and mobile, made of stainless steel, concrete-filled plastic, or an empty aluminum shell.
These stands and sleeves provide strong vertical support as well as easy installation.
Consummate Customer Service with American Holtzkraft
Clients find that American Holtzkraft offers reliable quality products and customer service without comparison. We correct errors quickly, as evidenced by our loyal client base that continues to grow.
The market umbrella stand that supports your American Holtzkraft product will not fail your venue. Invest in quality market umbrellas, daybeds, cabanas, and other site furnishings for an appealing, highly functional outdoor design. Check out the American Holtzkraft online catalog for inspiration and information, or feel free to reach out with an email to [email protected] or a call to (570) 539-8945.