Market Umbrella with Lights
Market Umbrella with Lights
The American Holtzkraft Assurance of Quality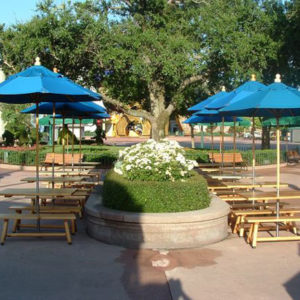 American Holtzkraft is female-owned and headquartered in Mount Pleasant Mills, PA. We have instilled every level of innovation, quality materials, and expert craftsmanship in our business for over three decades. We have access to a remarkably skilled Pennsylvania Dutch population in this region and the hardest of the North American hardwoods, Northern Ash trees.
We make the world's finest commercial umbrellas, cabanas, daybeds, and other site furnishings with these incredible assets!
Upgrade Your Commercial Patio Aesthetic
The patio of your venue is the first space and the last to leave an impression. The layout and design of the patio furnishings will significantly affect both the flow of movement, the draw of the eye, and the satisfaction of patrons. Embrace your customers after sundown with a warm, softly lit environment.
Partitioning the patio space into several outdoor "rooms" will also accommodate more customers, pleasing all comers with areas for intimacy, spaces for groups, and more. In addition to water and fire features, adding soft lighting with lit market umbrellas adds cohesiveness to the design.
Clusters of seating with a dance floor and bar can transform a stiff, unwelcoming patio into an occasion-worthy space.
American Holtzkraft Market Umbrellas with Lighting
Our lighted umbrellas employ LED bulbs with 4-volt wiring and an aesthetically pleasing system for concealing the bulbs and wiring. You can choose to have bulbs along each umbrella rib or on the upper hub for a down-lit result.
This downlighting option can be paired with our wind resilient rotating canopy for maximum life and use in wind-prone settings.
Choose American Holtzkraft market umbrellas and other custom site furnishings to maximize the design of your commercial patio environment. Our catalog is filled with a plethora of quality commercial umbrellas to unify your design, add a sense of intimacy to the seating arrangement, and protect patrons from sun glare during the day.
Our quality market umbrellas are without competition in terms of quality and innovation. American Holtzkraft holds six distinct patents regarding the design of our umbrellas, including thatch umbrellas, fan umbrellas, misting umbrellas, a two-piece self-locking pole stand, and a rotating canopy umbrella.
Over several years, these innovations have earned our company honors from the ADEX (Awards for Design Excellence).
The Personalization Potential for an American Holtzkraft Market Umbrella
The market umbrellas we create are available in a wide range of sizes and shapes (octagon, decagon, rectangle, and square) and your choice of aluminum or Northern Ash pole. Further customizations include the choice of pole finishes, canopy design and color, and even a logo on the canopy.
This canopy is not made of average material. We use hardy textiles that resist tearing, fading, staining, and mildewing, and these textiles are available in your choice of color and design, stitched with the style and pleating methods you prefer.
American Holtzkraft market umbrellas with lights offer all venues a way to incorporate daytime accessories into a nighttime setting. Secure the site furnishings your venue needs by calling (570) 539-8945 or emailing [email protected].