Market Umbrellas
American Holtzkraft market umbrellas blend innovation, fine materials, and remarkable workmanship by the Pennsylvania Dutch population. We make great efforts to satisfy all clients with excellent site furnishings. Our customers return time and time again for all of their custom piece needs.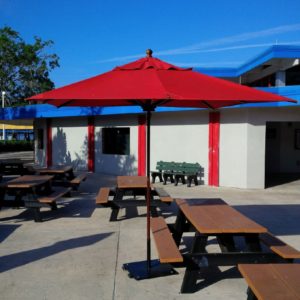 Operating out of Mount Pleasant Mills, PA, American Holtzkraft is a small, woman-owned business. In the years since we began operations in 1985, we have leveraged local resources to manufacture beautiful, functional, and durable pieces.
American Holtzkraft offers site furnishings that are made in the USA and designed specifically for the needs of theme parks, restaurants, resorts, and other hospitality venues.
The market umbrellas we produce are made with Northern Ash, the hardest of the hardwoods in the US. The high quality of these umbrellas depends on canopies of durable and appealing fabrics, multi-laminated hubs and finials, and solid brass hardware.
The warmth and appeal of a wooden market umbrella is matched by the durable aluminum model.
American Holtzkraft Umbrella Features
The Northern Ash hardwood poles are slow-dried through a kiln, then sealed with multiple layers of finishes to protect against weather and warping. The pole is further protected by the aluminum flush pole guard to limit swelling.
A horizontal multi-laminated hub provides strength and protection from changes in response to weather conditions.
The solid brass brackets connect fabric, and we make sure that every screw is installed flush to avoid tearing or weakening the fabric during operations.
Identifying the Best Umbrella Size for Your Needs
The most appropriate market umbrellas will make hospitality venues more comfortable and welcoming.
Whether you operate a restaurant with al fresco dining, a theme park, cruise ship, hotel, or resort, market umbrellas are necessary. They should be the right size to maximize function and aesthetics.
Market umbrella sizes are indicated by the width, not the height. The measurements we provide for our American Holtzkraft market umbrellas are taken from end to end on the ribs of the pieces.
To determine which size of umbrella you should order, measure the space that you want to protect and then add a 2' easement on all sides. This additional room allows guests to keep their seats even as the sun moves across the sky causing glare.
Market Umbrella Sizes and Uses
6' market umbrellas – suggested for small bistro tables up to 30" in diameter
8' market umbrellas – suggested for 4-person seating including a 48" wide table or one chaise lounge
9' market umbrellas – suggested for 4-6 person dining areas like tables up to 54" wide
10' market umbrellas – suggested for 6-person tables up to 62" in diameter or two chaise lounges
11' market umbrellas – suggested for tables up to 84" in diameter that seat 8-14 guests
12'+ market umbrellas – suggested for large seating spaces and pools
Our reputation stands all on its own. We make excellent pieces, customized for our clients' needs. From market umbrellas to cabanas, daybeds, accessories, and other site furnishings, every piece that we produce is custom for our customers and made from only the finest materials. Our patented designs produce the most wind-resilient market umbrellas on the market.
American Holtzkraft offers market umbrellas to clients around the world. Check out our online catalog to get a clear view of our offerings, or reach out by phone at (570) 539-8945 to learn more or place an order.