Octagon Market Umbrellas
The foremost provider of market umbrellas in the USA, American Holtzkraft offers wind-resistant octagon, square, rectangle, and decagon umbrellas. Our clients count on us to provide products that they can rely on for the long term.
Who We Are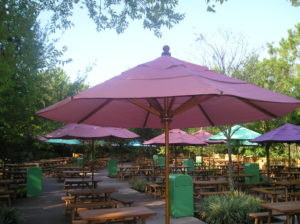 Up to 30"              2-person bistro set                  6 feet
Up to 48"              4-person dining area              7 feet
Up to 54"              4-6 person dining area           8 feet
Up to 62"              6-person dining area              9 feet
Up to 84"              6-8 person dining set              10+ feet
American Holtzkraft Umbrella Composition
Rotating Canopy Finial – multi-laminated wood
Reinforced Leading Edge – Double folded and triple-stitched fabric with UV protected thread
Air Vents – single and double vents permit winds to escape, creating a safe way to let air flow through the umbrella
Reinforced Stress Points – double-layered fabric, sewn in and double-stitched to protect against weather and wind
Top and Bottom Hubs – multi-laminated wood and reinforced with stainless steel screws; solid machined aluminum hubs; stainless steel fasteners
Pin and Chain – solid brass or stainless steel, adjusts the height and tautness of canopy; chain keeps pin intact with umbrella
Pole – Aluminum or Wooden
The lasting power of market umbrellas are typical of American Holtzkraft site furnishings. Whether you need a set of octagon, rectangular, or square market umbrellas, we will deliver quality and strength. To place your order, or to ask questions about a potential order, call (570) 539-8945.