Outdoor Commercial Patio Umbrella Manufacturers & Suppliers
American Holtzkraft is superior among outdoor commercial patio umbrella manufacturers & suppliers. We prioritize form and function so that hospitality venues benefit from a broad variety of different umbrella models, daybeds, cabanas, accessories, and other custom site furnishings.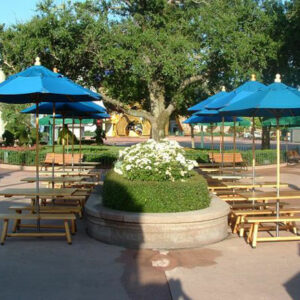 A female-owned small business, headquartered in Mount Pleasant Mills, PA, American Holtzkraft produces made-in-America, high-end site furnishings for a wide swathe of hospitality businesses, the world over. Local human and natural resources, i.e., the Northern Ash hardwoods and the Pennsylvania Dutch community, along with innovative design result in great quality work.
We produce the absolute best market umbrellas, cabanas, daybeds, and other site furnishings. We do so with absolute customer satisfaction, delivering the best pieces with courtesy and customization. Mistakes will occur from time to time, but when they do, we meet them with understanding and solutions.
By selecting American Holtzkraft as your site furnishing provider, you will benefit from pieces that look and play the part for far longer than other brands, but they can also enjoy second lives through our refurbishment process. We have a dedicated refurbishment center where we take products that we've created as well as those of our competition and return them to like-new condition.
Bring Comfort, Privacy, and Shade to Your Guests
The market umbrella that you choose for your venue needs to be the perfect size and shape for the venue in question. A market umbrella's size refers to the width from tip to tip rather than the height, and your choice should reflect the area's measurement plus two-feet of clearance. This size will sufficiently protect the area from the sun's glare despite the movement of the sun in the sky from morning to afternoon.
Hand-crafted expertise allows American Holtzkraft to provide customized and perfected pieces. Each functions appropriately, and you can implement branding through color, style, and logo placement selections. We'll even provide exclusive rights of use if you design market umbrellas and other site furnishings that you want to be immediately connected to your brand.
American Holtzkraft Market Umbrella Expectations
A wooden market umbrella made by us will usually be made of Northern Ash hardwood poles, hubs, and finials; although, we also make Western Cedar and Plantation-Grown Teak available. The canopies that these umbrellas feature are durable and made to survive heavy use and weather exposure. The textiles, thread, stitching, hardware, and composition are made to last. You can customize the design with your fabric, pleating, stitching, and logo selections.
We're known for producing wind-resilient furnishings. Our patented fully rotating canopy allows the structure to withstand winds without damage, and when combined with dual venting of the canopy, that resilience is even greater. During wind-tunnel testing, this model survives winds up to 74.5 mph before being damaged.
The other option for our umbrella pole is aluminum. Any environment welcomes this material for a long life of functionality and visual appeal. Easy repair and use make this option ideal for kiosks and pieces that need to be fairly mobile.
Features of the aluminum market umbrella from American Holtzkraft include bushed or powder finish, marine-grade materials, a fully rotating canopy, stainless steel hardware, solid aluminum finial, and double-stitched reinforced pockets.
Set up the patio of any hospitality space with outdoor umbrella pieces from the best of the manufacturers & suppliers of site furnishings: American Holtzkraft. We offer products well worth the investment; we invite you to browse our catalog, project gallery, and website to learn more. Contact us for an order via email at [email protected] or phone at (570) 539-8945.