Outdoor Hotel / Resort Umbrellas California
Cruise ships, theme parks, hotels, resort spaces, and other hospitality ventures in California need appropriate market umbrellas, and American Holtzkraft fulfills these needs. We offer a range of shapes and sizes of professional-grade umbrellas+ to meet your space's demands.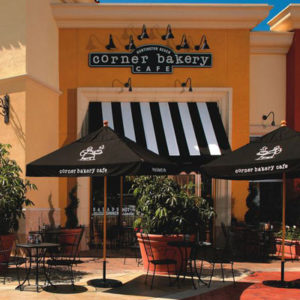 A market umbrella is meant to protect from light, precipitation, and the sun's heat, UV rays, and glare, but it also serves a significant design purpose. Anchor the outdoor space, unify the design and cement your company's brand with a thoughtful plan.
Why Choose American Holtzkraft
American Holtzkraft is the leading provider of commercial umbrellas for the hospitality sector in the US and beyond. As a female-owned small business, we've produced quality site furnishings since 1985, operating out of Mount Pleasant Mills, PA.
Born from ingenuity and innovation, we're fortunate to be positioned in an area with abundant Northern Ash hardwoods and a significant population of Pennsylvania Dutch craftspeople. Using these resources, we offer custom-designed, high quality, and built-to-last market umbrellas, cabanas, daybeds, accessories, and other site furnishings. 
The services that we offer include comprehensive repair and refurbishment for our own products as well as those of our competitors as well as SAM visits for our Florida clients. These services allow companies to extend the lives of their site furnishings and save on the cost of exterior equipment.
Made-to-Order Market Umbrellas
American Holtzkraft offers various options when designing market umbrellas, including size, style, shape, pole type, color, texture, design, pleating, stitching, and even logo design and placement. We can also provide exclusive rights to our clients, meaning that they, and only they, can use the design they create.
American Holtzkraft market umbrellas and other furnishings are easily cleaned, fade-resistant, wear-resistant, and wind-resilient.
Minor details of American Holtzkraft market umbrellas are thoughtfully designed. We build our products to last, using solid brass, stainless steel, aluminum, and proven hardwoods. When stacked up beside those of our competitors, our market umbrellas stand above the rest. 
Opt for our market umbrellas to keep conditions from damaging your investment. American Holtzkraft creates market umbrellas that are very resistant to damage from high winds. In wind-tunnel testing, our market umbrellas will withstand winds up to 74.5 mph before experiencing damage.
Market umbrella poles can be aluminum or hardwood. Wooden pole market umbrellas are made from Northern Ash, Western Cedar, or Plantation-Grown Teak, available in various finishes. The wood is slow-dried through kiln prices and multi-sealed in the finish of your choice. 
American Holtzkraft market umbrellas come with standard features. One of the options that you can choose is to have features that can be fixed on-site, allowing the work of the day to continue as quickly as possible.
When problems arise occasionally, the team at American Holtzkraft does everything possible to resolve the situation. Client safety and satisfaction come first, always.
Incorporate appropriate outdoor hotel and resort umbrellas into your California dream venture. American Holtzkraft site furnishings provide the function and visual appeal hospitality ventures need. Explore our products by checking out our online catalog or calling (570) 539-8945. You'll protect your guests' experience and your company's bottom line with the right site furnishings.