Outdoor Hotel / Resort Umbrellas Florida
In Florida, outdoor hotel and resort spaces require umbrellas like those that American Holtzkraft produces. We offer elegance, protection, and smoothly operating pieces with custom design potential for all our customers. Count on us to provide complete satisfaction and long-lasting site furnishings.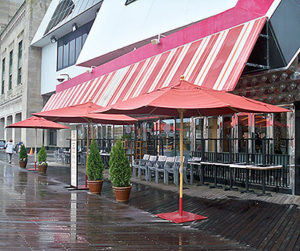 Within the hospitality sector, American Holtzkraft services all types of businesses, including:
Hotels

Resorts

Event spaces

Restaurants

Beach clubs

Country clubs

Cruise ships

Theme parks

Water parks

etc.
Whether you need a few market umbrellas or a bulk order, including daybeds, cabanas, accessories, or other site furnishings, American Holtzkraft can fulfill the demands of your business's spaces and purpose. 
The plan for your market umbrellas should start by considering the size and shape you require for the settings in question, and then you'll need to determine how many units you'll need along with their layout. Our experienced team will be happy to assist with this planning.
The protective shade that a market umbrella casts needs to consider the movement of the shade. As the shade changes during the daylight hours, including an extra two feet on all sides of the market umbrella, will compensate.
The plethora of sizes, shapes, colors, and models available from American Holtzkraft is available for all hospitality venues. We'll help design and place logos on canvases, elaborate on an established architectural motif, and provide the custom potential to further your brand.
Meeting All Hospitality Needs = American Holtzkraft
When American Holtzkraft began operations in 1985, we focused on three critical components – innovation, quality materials, and expert workmanship.
Headquartered in Mount Pleasant Mills, PA, we leverage these elements to produce strong, well-built, custom creations. Northern Ash hardwoods, sourced locally, and the Pennsylvania Dutch population's expertise, using our designs, create market umbrellas commonly considered the standard of the industry.
We offer the best market umbrellas along with a plethora of cabanas, daybeds, accessories, and more, meeting the needs of some of the leading hospitality businesses around the globe. In line with your requirements, safety, custom capacity, and customer service come first with American Holtzkraft.
Elements of American Holtzkraft Market Umbrellas
The base of your market umbrella must provide stable installation for a wide range of environments, so we at American Holtzkraft offer several different options.
We also provide your choice of poles – either wooden or aluminum. Wooden poles are generally made of Northern Ash. We also offer Western Cedar and Plantation-Grown Teak in the shades of teak, natural, mahogany, Stonehenge gray, whitewash, black enamel, and white enamel. These wooden options are slow-dried via kiln and layered with multiple finish layers.
The aluminum poles can come as brushed aluminum or powder coat finish.
Atop these poles will be the canopies. Do you require square, octagon (round), decagon, or rectangular?
The final product will be a market umbrella that lasts for many seasons. Our wind-resilient market umbrellas, with a fully rotating canopy and dual venting, are proven to withstand winds up to 74.5 mph during wind tunnel testing.
Florida clients can schedule a SAMs visit for our specialists to evaluate the Safety, Aesthetics, and Maintenance elements of your hospitality business. 
The ideal outdoor hotel and resort umbrellas for your Florida business will come with an order from American Holtzkraft. To learn more, check out our online catalog, or reach out for a consultation with our team at (570) 539-8945.