Outdoor Hotel / Resort Umbrellas Las Vegas, Nevada
American Holtzkraft fulfills the needs of Las Vegas, Nevada hospitality businesses for outdoor hotel / resort umbrellas and other site furnishings. We build with quality, durability, and beauty as the cornerstones of our operation.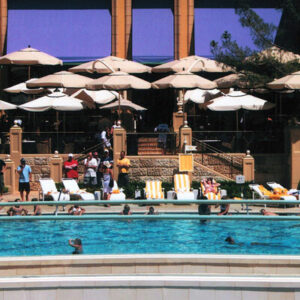 Merging design creativity, high-quality materials, and expert craftsmanship allows American Holtzkraft to build top-shelf commercial umbrellas of various models, daybeds, cabanas, accessories, and other custom site furnishings. The materials that we choose are meant to provide quality functionality, life, and looks. They include Sunbrella fabrics, Northern Ash hardwoods, solid brass and stainless steel hardware, and other top-quality materials.
Seven different patents and multiple awards stand as evidence of the quality of our design as well.
We began providing world-class site furnishings as far back as 1985 and have since earned many awards and developed various models that allow us to stand out above the competition. Our customer service is also top-of-the-line as we offer products and services to hospitality venues like hotels, restaurants, theme parks, water parks, resorts, cruise lines, and more.
The durability of our work is remarkable. Every detail is meant to enable products to withstand use, exposure, and the passage of time, and when the end of the first life comes, our refurbishment center can provide another iteration of use.
As you search for the perfect commercial outdoor umbrella, how do you choose the best option?
We prioritize durability, which will obviously be a major factor. Exposure to the elements, including winds, are no match for our wind-resilient umbrellas. Dual venting and rotating canopies allow this model to withstand high winds before being damaged.
A market umbrella should be well-suited to the environment where it's used. Beachfront restaurants, poolside hotel patios, and fine-dining restaurant outdoor seating all require particular style market umbrellas, and we offer full, sure protection for guests through our products.
The commercial-grade umbrellas that we make at American Holtzkraft feature a center pole; we do not make cantilever design umbrellas because of the potential safety hazards.
We make outdoor umbrellas that are made for longevity – built with high-end aluminum or hardwood construction. The fabric and hardware are also made for durability even when used in exterior and marine environments. Purchasing from us means that you won't have to repurchase pieces year after year or invest loads of time in maintenance and care.
The protection of American Holtzkraft market umbrellas is stronger than other umbrellas provide. UV rays, precipitation, and the sun's glare are no match for the strength of our market umbrellas' canopies.
The maintenance demands of our umbrellas are far less than other options because the fabric of our umbrellas resists mildew growth, staining, and fading. Cleaning, storing, and repairing are all far easier with American Holtzkraft market umbrellas.
From the canopy to the base, every aspect of an umbrella can suit your company when you entrust us with the production of it. In addition, we offer outstanding customer service that ensures 100% satisfaction, even when mistakes do occur.
When you need world-class outdoor hotel / resort umbrellas for hospitality venues in Las Vegas, Nevada, your best bet is American Holtzkraft. We can even help with the design process as you identify the best model and feature selection for your space. Find inspiration by viewing our online catalog and project gallery. Interested? Contact us today at (570) 539-8945.