Outdoor Hotel / Resort Umbrellas Los Angeles, California
For outdoor umbrellas for a hotel or resort in Los Angeles, California, rely on American Holtzkraft to provide products with long life and complete protection from the sun and the elements. Our products leverage hand-crafted artistry, high-end materials, and ingenious design. Hospitality venues like theme and water parks, country clubs, restaurants, hotels, and cruise ships require our made-to-order site furnishings. 
Introduction to American Holtzkraft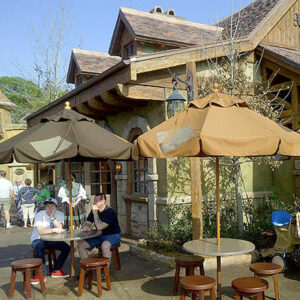 American Holtzkraft, founded in 1985, supplies beautiful, substantial, durable commercial umbrellas. We produce world-class market umbrellas and more with the combination of the Pennsylvania Dutch community's craftsmanship, the Northern Ash hardwoods' strength, and our own ingenious designs.
Loyal clients are the norm with American Holtzkraft because we supply absolute quality and 100% customer satisfaction. 
The Many Functions of American Holtzkraft Market Umbrellas
Market umbrellas are an expectation around pools, on the beach, and in outdoor dining settings. If hospitality businesses lack these essential features, patrons will notice. American Holtzkraft designs are worth the investment. 
American Holtzkraft commercial umbrellas weather the weather without rapid wear or complex maintenance. The materials composing the market umbrellas resist damage and corrosion from saltwater, rain, wind, and heavy sun exposure. 
Our team will happily walk you through the various options and design the perfect umbrella for your business. We even provide exclusive design rights for companies that want to be the only ones using the design. This factor can be a significant branding benefit. 
Commercial umbrellas from American Holtzkraft feature either aluminum or wooden poles. We typically use Northern Ash hardwoods for wood poles but also offer Western Cedar and Plantation-Grown Teak. The wood is slow-dried via kiln and stained with several layers of marine-grade finish in the shade of your choice:
Teak

Natural

Mahogany

Stonehenge gray

Whitewash

Black enamel

White enamel.
Aluminum poles have either a powder-brushed finish or an aluminum-brushed finish.
The wind-resilient market umbrella has a rotating canopy and dual venting so that winds go through the canopy instead of pushing against it. Wind tunnel testing has shown that this model can withstand winds up to 74.5 mph before experiencing damage. You can also choose lighting, thatching, and even greater wind resilience.
The canopy that tops an American Holtzkraft market umbrella can be personalized with your company's logo. We offer many fabric options: fade-resistant, stain-resistant, UV-resistant, mold and mildew-resistant, and tear-resistant. 
Choose the color, pleating, stitching, and logo placement for your market umbrella. We also offer several shapes and sizes, including octagon, rectangle, square, and decagon market umbrellas.
As you order the size, make sure that you add two feet to each side of the area that you would like to shade. The easement is essential to maintain shade all day; otherwise, you'll have glare on one side in the morning and the other in the afternoon.
As the leading manufacturer of American-made outdoor hotel/resort umbrellas for businesses in Los Angeles, California, and beyond, American Holtzkraft designs and crafts the best site furnishings. Browse our online catalog to get a taste of the pieces we can make for your business, and then reach out via phone at (570) 539-8945 or by email: [email protected].