Outdoor Hotel / Resort Umbrellas Miami, Florida
Miami, Florida, businesses searching for the perfect outdoor hotel / resort umbrellas will find them with American Holtzkraft. We design and craft the best commercial umbrellas, daybeds, cabanas, and other site furnishings for the hospitality industry. Welcome guests appropriately and keep their outdoor experiences comfortable by investing in our pieces.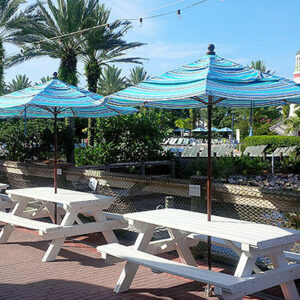 Commercial umbrellas from American Holtzkraft provide guests comfort and shade while enjoying outdoor spaces – at the pool, the beachfront, outdoor dining areas, and event spaces. We choose the finest materials available, including canopy material that protects from UV penetration.
Commercial umbrellas do more than provide a functional benefit; they also add to the exterior aesthetic. The design and position of umbrellas direct the eye, unify the space, and provide guests with a sense of privacy.
Order from American Holtzkraft
American Holtzkraft, founded in 1985, produces the standard of high-end commercial umbrellas. Our efforts reflect uncompromising standards regarding design, quality, and customer service.
Our access to local natural and human resources, combined with our advanced designs, set the table for superior results. Over the past four decades, we have established a worldwide set of customers.
The choices that we make available are numerous and widespread. We specialize in creating the ultimate wooden and aluminum market umbrellas.
You can also count on us to give your used market umbrellas and other site furnishings a second life. We have a refurbishment facility where we return pieces to like-new condition – American Holtzkraft brand and those created by our competition. Save money and the planet with this service.
Florida clients can also call us to schedule a SAM visit. Our experts will evaluate your space's SAFETY, AESTHETIC, and MAINTENANCE elements and make remediations as needed.
Customizing Your Commercial Umbrella Order
When you invest in American Holtzkraft market umbrellas, practically every element can be customized:
Shape
Size
Pole material
Canopy color
Canopy texture
Canopy pattern
Canopy pleating
Canopy panels
Canopy stitching
Canopy logo design and placement
Call on us for assistance as you plan your design!
In addition to custom design, we provide products that are easy to maintain. The fabric we use to create canopies is resistant to staining, fading, wear, tearing, and even mildew growth.
The strength of our design doesn't end there. With a rotating canopy and dual venting, you'll have an umbrella that resists wind damage up to winds of 74.5 mph, as demonstrated in wind tunnel testing.
The poles of your market umbrellas may be either wooden or aluminum. Wooden poles are typically Northern Ash, the same wood used for making baseball bats, but we also offer Plantation-Grown Teak and Western Cedar. These poles are exceptionally strong from being slow-dried via kiln to cut and sealed with marine-grade glue and several layers of sealant. They're also protected with an aluminum pole guard to minimize swelling.
The components that go into our market umbrellas are chosen for durability and ease of use. When something goes awry with many of our models, you can easily fix them while in the field rather than having a complex repair process.
For the best outdoor hotel / resort umbrellas for a Miami, Florida hospitality business, come to American Holtzkraft for unquestionable customer service and top-notch products. Discover more by visiting our project gallery or calling (570) 539-8945.