Outdoor Hotel / Resort Umbrellas New Orleans, Louisiana
American Holtzkraft offers the outdoor hotel / resort umbrellas that venues in New Orleans, Louisiana need for functionality and branding opportunities. 
American Holtzkraft leads the market of commercial umbrellas due to our skill and dedication in design and production of umbrellas, daybeds, cabanas, and other custom site furnishings. Season after season, our products will serve your business without looking worse for wear. Even when we encounter the infrequent dissatisfied customer, we do whatever is necessary to rectify the situation.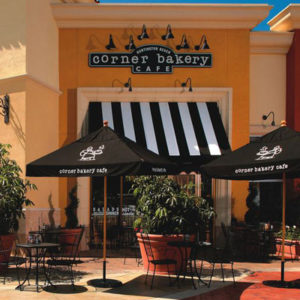 The hospitality industry includes theme parks, water parks, hotels, resorts, restaurants, country clubs, cruise ships, event spaces, and more. The team at American Holtzkraft will help ensure that the design of your site furnishings is on-point and in line with your business's functional and visual needs, and we offer exclusive rights of use for your chosen design.
We'll also be able to help plan for the space where you need to use our products. The layout of cabanas, tables, umbrellas, and other site furnishings will depend on the square footage and shape of the space and the capacity for guests needed in that area. Then, you can choose the appropriate size, shape, and number of market umbrellas for the area.
When creating shade with a market umbrella, you must include a two foot clearance on all sides to account for the movement of the sun from morning to afternoon.
At American Holtzkraft, you'll find a wide range of sizes and shapes of market umbrellas, and you'll be able to customize them to suit the atmosphere of the venue and the marketing scheme of the business. 
Beyond customized and in great condition, American Holtzkraft also provides market umbrellas that are easily used and repaired on-site when needed.
The Best Umbrellas in the Market Umbrella World
Since 1985, American Holtzkraft has been on a mission to provide the absolute best market umbrellas based upon our innovative design ideas. 
We work out of Mount Pleasant Mills, PA, producing site furnishings here in America. We use the Northern Ash hardwoods and craftsmanship of the Pennsylvania Dutch population to provide stellar products that are made with the best materials and expert workmanship.
Foremost Features of American Holtzkraft Market Umbrellas
Clients can choose market umbrellas made of either wood or aluminum in the following shapes:
Rectangle

Decagon

Octagon "round"

Square
The wood that we use is generally Northern Ash, but we also offer Western Cedar and Plantation-Grown Teak. Wooden poles are slow-dried via kiln and then sealed with several layers of finish in the shade of your choice – teak, natural, mahogany, Stonehenge gray, whitewash, black enamel, and white enamel.
As for our aluminum poles, they typically come as brushed aluminum, but you can also upgrade to a powder finish aluminum.
During wind-tunnel testing, our wind-resilient market umbrella can withstand winds up to 74.5 mph before damage occurs. The features that make this possible include a canopy with dual vents and a canopy that fully rotates.
The custom canopy of your market umbrella can be the color you prefer with a personalized pattern, pleating and stitching design, and logo design and placement. The umbrellas' canopies can be the calling card for the outdoor spaces of your hotel / resort. Discover how American Holtzkraft can further improve your business by checking out our online catalog, calling (570) 539-8945, or emailing [email protected].