Outdoor Hotel / Resort Umbrellas Orlando, Florida
Outdoor hotel / resort umbrellas in Orlando, Florida from American Holtzkraft will not disappoint. Any hospitality venue will benefit from the longevity, functionality, and visual appeal of our products. 
In 1985 in Mount Pleasant Mills, American Holtzkraft was born from innovation. We're a female owned small business that produces the finest market umbrellas, cabanas, daybeds, and other custom site furnishings.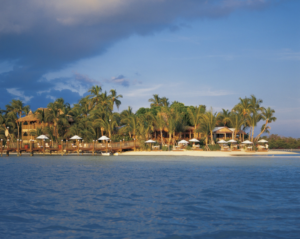 This area has a bounty of resources that we leverage to put our ingenious designs in play. The Northern Ash hardwoods that grow here are the hardest of the North American hardwoods. Baseball bats are even made from them. We put this wood to use when making the strongest of market umbrellas.
The local population of the Pennsylvania Dutch community is also beneficial. The artistry and workmanship of these craftsmen incorporates perfection into every product. 
American Holtzkraft market umbrellas may come with wooden or aluminum poles. We offer a wide range of bases and stands to suit any environment or purpose. Above all, though, we prioritize safety when providing site furnishings. 
Features of Wooden Models of Market Umbrellas
Wooden pole models of American Holtzkraft market umbrellas can be made to order. Choose the shape, size, pattern, color, stitching, pleating, and logo placement that best suits your company's daily needs and branding. 
We offer round "octagon," square, rectangle, and decagon market umbrellas in a wide range of sizes. The number and layout of these pieces can be difficult to determine, but our team has the expertise and experience needed to gauge your situation and respond accordingly. 
The Northern Ash hardwoods that we use to make the majority of our wooden poles are incredibly strong. We also make other woods available including Western Cedar and Plantation-Grown Teak. The wood is slow-dried with a kiln and protected by an aluminum flush guard. Our poles won't break or warp, even when exposed to the elements.
Other elements of the market umbrella are just as tough. The hubs are reinforced with stainless steel components, and the fabric, ribs, and other pieces are connected with solid brass, sealed hardware. 
We have six different patents that provide unique benefits only we can offer.
One of these benefits is the durability of our market umbrellas in windy conditions. The model has a fully rotating canopy and dual canopy venting. These measures reduce the pressure against market umbrellas, allowing them to withstand winds. During testing, the design has proven itself to protect from damage up to 74.5 mph winds.
You could also choose aluminum poles for your market umbrella design. The durability of the aluminum pole and aluminum hub is remarkable, and repairs are possible in the field without extensive investments of time or handiwork.
As you place your market umbrella order, consider opportunities to personalize the pieces. Themes for your site furnishings allow you to bring cohesiveness to the design. We even provide exclusive distribution rights to our clients, whether you require only market umbrellas or cabanas, daybeds, or other site furnishings. The quality of our products is without question – thanks to their design, materials, and craftsmanship.
The exterior of the hospitality venues in Orlando, Florida, matters, particularly hotel / resort endeavors, so we at American Holtzkraft offer the best umbrellas in terms of functionality and visual appeal. To learn more about our products, you may peruse our online catalog or call (570) 539-8945 to pose questions or place an order.