Outdoor Hotel / Resort Umbrellas Palm Springs, California
Outdoor hotel / resort businesses in Palm Springs, California need the type of umbrellas produced by American Holtzkraft. The site furnishings that we produce range from umbrellas to cabanas, daybeds, and other pieces made according to your specifications. Our customer service is 100%; no customer goes away unsatisfied when they deal with American Holtzkraft.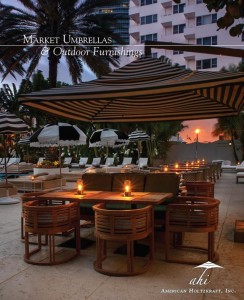 We produce world-class site furnishings. Hand-crafted from the finest materials, our pieces can be built according to your chosen customizations. 
Create a Welcoming Environment
When guests walk toward the beach portion of your resort, they should feel welcomed by the umbrellas and loungers that welcome them. Our products offer clear quality and enough coverage to provide full shade. As you order, keep in mind that the pieces should include 2' of additional canopy beyond the shaded area in order to keep the space shaded even as the sun's position changes from morning to afternoon.
Great Quality and Pricing through American Holtzkraft
American Holtzkraft market umbrellas are meant to be beautiful and functional even with consistent exposure to the elements. As high as the quality may be, we don't charge exorbitant prices for our pieces. Invest in the quality pieces of American Holtzkraft to avoid having to buy new umbrellas each season.
Our customer service is extraordinary. If you ever experience a poor interaction or receive a poor product, let us know. We always make it right.
At American Holtzkraft, we rely on the highest quality materials, innovative designs, and experienced craftsmen to produce safe, consistent, and made-to-spec pieces for all sorts of hospitality clients.
Reduce Costs with Site Furnishing Investment
When you plan to buy umbrellas for a hotel or resort, consider the costs of time and money necessary to keep them in top tier condition. Cleaning and repairing easily worn market umbrellas will be incredibly costly, but you can avoid these expenses by purchasing from American Holtzkraft. The market umbrellas that we sell are resistant to damage, tearing, fading, staining, and mildewing. The canopies and poles are strong and durable. Even the components that put the pieces together are of great quality – sealed stainless steel, solid brass, and aluminum.
Since 1985, American Holtzkraft has elevated the standards of site furnishings. We utilize the highest quality wood and workmanship of the craftsmen in the area. Even more, our advanced designs and patented innovations produce the best market umbrellas. In fact, our wind-resilient model is the most resistant to wind damage available. 
All of the furnishings that we produce are built to last, made by hand, and fully personalizable. We have six different patents, including all of the following:
Thatch umbrella

Fan umbrella

Misting umbrella

Two-piece self-locking pole stand

Rotating canopy umbrella

Automatic opening umbrella
The various designs that we've developed over the years have earned distinction by ADEX, the Awards for Design Excellence.
Customized for Branding
Exclusive rights of use are available from American Holtzkraft when companies design their own themed market umbrellas, cabanas, daybeds, and other site furnishings. The canopies of our umbrellas resist fading, staining, and tearing, but you can choose their color, pattern, pleating, stitching, and logo design and placement for full brand integration.
Outdoor hotel / resort umbrellas for businesses in Palm Springs, California and beyond should come from American Holtzkraft. Flip through our online catalog to see our models, and when you're ready for guidance or ready to order, reach out by phone at (570) 539-8945 or by email at [email protected].