Outdoor Hotel / Resort Umbrellas San Antonio, Texas
American Holtzkraft outdoor hotel / resort umbrellas allow the hospitality venues of San Antonio, Texas, and beyond to provide guests with shade, atmosphere, and protection. Through a dedication to quality, ingenuity, and customization, we outperform the competition with our site furnishings and services.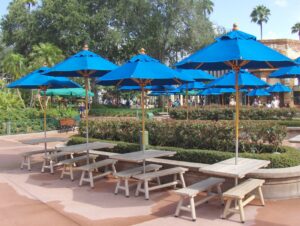 Established in 1985, American Holtzkraft provides well-designed and well-made site furnishings for various hospitality businesses, including hotels and resorts. In addition to market umbrellas, we produce daybeds, cabanas, and other made-to-spec site furnishings by employing ingenious design, fine materials, and expert craftsmanship.
Outdoor umbrellas for hotel or resort spaces are necessary for creating shade and protection from sun exposure for guests as they lounge by the pool or beachfront or enjoy meals at the resort's outdoor dining spaces.
American Holtzkraft provides a wide range of models of market umbrellas, and we're happy to create furnishings based on specified needs. Six different patents held by American Holtzkraft include the following:
Thatch umbrella
Fan umbrella
Misting umbrella
Two-piece self-locking pole stand
Rotating canopy umbrella
Automatic opening umbrella.
Determining the best size for your market umbrella and the number of umbrellas you need requires a bit of knowledge, which the experts here will happily provide. Generally, if you measure the area that requires shading and add two feet to account for the shade's movement during the day, the umbrella should be the correct size.
We also suggest that you mirror the architectural features and furnishings of the area with the shape of the market umbrella you select. American Holtzkraft offers rectangle, square, decagon, and octagon "round" options.
American Holtzkraft's textiles have the strength to stand up against weather and exposure, resist the penetration of UV rays, and even minimize the potential for mildew growth. We offer many colors and patterns and will design the canopy with the pleats, trims, valances, and stitching you request.
In addition, we offer exclusive rights of use for your custom-designed market umbrella.
The market umbrellas we design come with wooden or aluminum poles and are put together with solid brass hardware. Most wooden poles are made of Northern Ash hardwoods, but we also offer Plantation Grown Teak and Western Cedar.
When you choose hardwood poles, the timber will be kiln-dried and multi-laminated with marine-grade sealant in the shade of your choice. Aluminum poles can be either brushed or powdered aluminum finishes.
Safety is critical for American Holtzkraft. We don't use cantilever designs but provide the most wind-resilient umbrella on the market with many stabilization systems for all environments.
We stand behind our efforts at American Holtzkraft. Mistakes are made right every time. We pride ourselves on integrity, follow-through, and quality products. We also have a dedicated refurbishment center where we can return all sorts of site furnishings to like-new condition.
Other services that we provide apply only to our Florida clients. SAM visits evaluate venues' Safety, Aesthetics, and Maintenance elements and then make suggestions or remediate them.
For the highest quality outdoor hotel / resort umbrellas for businesses in San Antonio, Texas, call American Holtzkraft at (570) 539-8945. You may also email our team at [email protected] to pose any questions or place an order today.