Outdoor Market Umbrellas
Are you on the hunt for high-quality outdoor market umbrellas? American Holtzkraft produces site furnishings that are superior to the competition and perfectly suit the needs of our customers. We serve hospitality venues worldwide, including theme parks, water parks, golf resorts, hotels, restaurants, event spaces, cruise ships, and more.
Introducing American Holtzkraft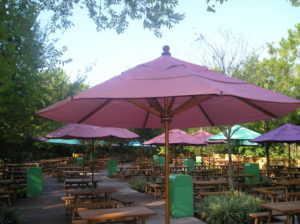 If you're unfamiliar with the world of market umbrellas, you may not have heard of American Holtzkraft. We are the leading provider of quality, durable commercial umbrellas, cabanas, daybeds, accessories, and other site furnishings. This female-owned and led company began operations in 1985 and was born from creative insights into how to improve the functionality and longevity of typical commercial umbrellas.
We operate out of Mount Pleasant Mills, PA, and make full use of the region's natural Northern Ash hardwood resources and the local expertise of the Pennsylvania Dutch population. In addition, our customer support and resolution services ensure that every transaction reaches a satisfactory result.
The purpose of market umbrellas should be to provide shade and cover from the elements while establishing a focal point of attention. American Holtzkraft market umbrellas accomplish these goals in a form that will last for years despite exposure and use. Your investment will last for an extended period, and we offer refurbishment services for our products and those of our competition.
Companies depend on us to deliver the right site furnishings for the exterior portions of their venues, and we do not let them down.
Market Umbrella Options from American Holtzkraft
American Holtzkraft produces market umbrellas with wooden or aluminum poles. Wooden poles are generally made of Northern Ash hardwoods, although we offer alternative wooden options, including Plantation Grown Teak and Western Cedar. To preserve the strength of the woods, we use kiln-drying processes and several layers of finish in the optional shades of teak, natural, mahogany, Stonehenge gray, whitewash, black enamel, and white enamel.
Other options customers may customize include style, shape, and size. We offer various sizes of octagon (round), decagon, rectangle, and square-shaped canopies. The inventive nature of our umbrellas includes rotating canopy options and double venting. These features allow market umbrellas to avoid wind damage by minimizing wind pressures.
Are you interested in branding? Order a series of canopies from us with your own color, pleating, and logo options for clear branding opportunities. In addition, we provide terrific options for umbrellas that need to be mobile or permanently fixed. So whether the market umbrella needs to withstand unexpected winds on the beach or facilitate a pop-up kiosk that moves frequently, American Holtzkraft market umbrellas can suit your needs.
Safety is always on top of mind for the designers of American Holtzkraft umbrellas and other site furnishings. We take pride in the quality of our pieces and strive to earn continued return customers by surpassing all expectations.
American Holtzkraft market umbrellas are stable and safe. We offer several stabilization systems to work for all site locations without damage or difficulty. In addition, our site furnishing experts will be happy to discuss the best design for your desired aesthetic and function.
The foremost provider of outdoor market umbrellas is American Holtzkraft. Come to us for all your site furnishing needs, from concept to production and refurbishment. Learn more about our products and capacities by looking through our online catalog or giving us a call at (570) 539-8945.