Outdoor Patio Umbrella Ideas
American Holtzkraft outdoor patio umbrella ideas can meet your venue's needs. We create custom, durable, and cost-effective pieces that elevate the aesthetic and complete the functionality of our client's exterior spaces. We're the foremost provider of umbrellas, cabanas, daybeds, and other site furnishings, and all of our products are made in the US.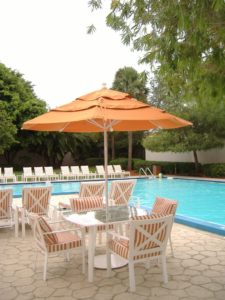 Mount Pleasant Mills, PA, where our headquarters is positioned, is ideal for American Holtzkraft's operations. We're a female-owned and operated small business with a worldwide footprint, producing the best market umbrellas, cabanas, daybeds, and other custom pieces available. We manufacture quality site furnishings using innovative ideas, locally grown Northern Ash hardwoods, and the time-honored craftsmanship of the Pennsylvania Dutch community.
The custom-built pieces from American Holtzkraft will perfectly suit your business's aesthetic and functional demands, but they'll also last season after season. We focus on safety when outfitting hospitality businesses, including water and theme parks, resorts, restaurants, and more.
How to Plan for the Right Commercial Umbrella
With the right market umbrellas and the right layout, the exterior spaces of your venue can be perfectly welcoming to your patrons and guests. They'll find these areas to be a refuge of comfort, and our pieces are designed with safety and functionality as key. Side benefits include enhancing the mood and branding of the area as well. 
How to plan the best market umbrella purchase?
Our team at American Holtzkraft provides a straightforward, collaborative process to help shape the ideal set of site furnishings. The first phase of the design should determine the perfect size, shape, and number of market umbrellas needed.
Round commercial umbrellas are the most common shape, but some situations call for rectangular, square, and even decagon umbrellas, which we design and produce. Pair the shape with the setting, and coordinate the layout with the needed capacity for the area. 
We realize that this can be complex, so we encourage you to seek guidance from our team. For instance, did you know that you need two additional feet on each side to account for shade? This tip and others are available from our experts at American Holtzkraft. 
American Holtzkraft market umbrellas are made with innovative designs. Our wind-resilient umbrella, for instance, has full rotation of the canopy as well as dual venting to allow the air to flow through rather than against it. In wind-tunnel testing, these models suffer no damage up to winds of 74.5 mph. We hold six different patents.
Custom design your American Holtzkraft market umbrella. Features that can be specifically modified include size and shape; canopy color, stitching and pleating, embellishments, logo placement; pole composition, and stand and stanchion.
Call on American Holtzkraft for Services
The repair and refurbishment services that we offer at American Holtzkraft apply to our products and those of our competitors. This service allows clients to work their budgets to the extreme. 
The SAMs visits that we provide to our Florida clients inspect and rectify the Safety, Aesthetic, and Maintenance features of their outdoor areas. This service helps our clients keep their venues in tip-top condition functionally, aesthetically, and safely.
Get the ideas for your outdoor patio umbrella purchase flowing by perusing the features we offer in our online catalog. American Holtzkraft designs and creates made-to-order market umbrellas and other site furnishings, and we welcome your call to collaborate on a design today: (570) 539-8945.