Outdoor Patio Umbrella with Lights
An outdoor design that features an American Holtzkraft outdoor patio umbrella with lights can elevate the outdoor areas of hospitality venues into magical gathering places at night. We can create custom commercial umbrellas, cabanas, daybeds, accessories, and site furnishings with our fine materials and workmanship.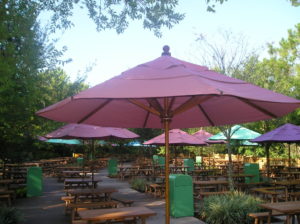 Our staff's expertise extends to helping clients personalize their orders. You deserve to be fully satisfied with your investment, and we back all sales. With market umbrellas, the canvas is the ideal place to add a bit of personalization. We even offer to create canopies branded with your company's logo or made of associated colors. Ultimately, the style and tone of the market umbrellas should fit within the venue's atmosphere.
The LED lighting options we provide include 4-volt wiring and carefully concealed bulbs. The LED lights are placed in the umbrella ribs, and we supply an all-night battery for optimal performance.
The subconscious reinforcement of subtle logo placement is powerful. In the consumer's mind, this can lead to positive customer associations. An American Holtzkraft market umbrella will not fail to impress.
We hold six distinct patents. These patents are for innovations that set us apart from other umbrella producers. The safety of our market umbrellas is always Priority One. For this reason, we now refrain from selling cantilever umbrellas because they're unsafe. We choose to sell umbrellas that can stand tall in windy conditions without putting patrons in danger.
These safety concerns motivated us to move to center-pole market umbrellas instead. Broken down in its simplest form, the market umbrella is a pole with a canopy, but we incorporate the best designs, materials, and construction available.
The Superiority of American Holtzkraft
As you search for the best provider of commercial umbrellas for use in outdoor hospitality spaces, American Holtzkraft should come out on top. We have a top-notch reputation through many years of experience providing customers with outstanding quality and service. We've also earned the ADEX awards year after year.
The look of a market umbrella is important, but the longevity, smooth functioning, and quality are even more crucial. At American Holtzkraft, we use aluminum and the hardest of the North American hardwoods, the Northern Ash, for the market umbrella poles.
Additional components include stainless steel hardware, aluminum flush pole guards, solid brass brackets, grommets, and screws, along with incredibly durable canopy fabric. This fabric is available in various colors, designs, and textiles, and clients can choose specific pleating, stitching, and logo screen printing.
All American Holtzkraft products are made in the US, hand-crafted by the Pennsylvania Dutch population. The results are the absolute best available, from the innovative designs and fine materials to the world-class workmanship.
The American Holtzkraft service center allows us to provide maintenance, refurbishing, and repair for market umbrellas as well as the daybeds, cabanas, accessories, and other site furnishings we produce.
We can go even further for our Floridian customers by providing a SAM visit. We will check in at your venue and evaluate the Safety, Aesthetics, and Maintenance of your exterior spaces.
If your hospitality venue welcomes guests to outdoor accommodations at night, invest in American Holtzkraft patio umbrella sets with lights. We await the opportunity to serve this and all of your other outdoor furnishing needs for your company. Learn more by calling (570) 539-8945.