Outdoor Patio Umbrella With Stand
Custom ordering an outdoor patio umbrella with a stand from American Holtzkraft is an easy, straightforward process for our clients. We meet and surpass the expectations of hospitality venues with well-made and made-to-order site furnishings – including market umbrellas, daybeds, cabanas, and other site furnishings.
American Holtzkraft Quality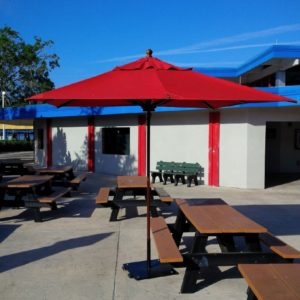 Stanchion systems can support American Holtzkraft market umbrellas in various environments. The stainless steel is high grade and can support permanently placed market umbrellas reliably and stably. The design will include a drainage hole to prevent damage, and the two arms on the sleeve will lock it to the base to avoid tampering.
Another feature we can incorporate into your stanchion design is the restraint bolt that keeps the pivot arms from being exposed. The design will keep the sleeve in place, and when not used, the sleeve may be removed and replaced with a plug to keep in the base.
This system is available in three sizes: 1 ½", 2″, or 2 ⅜".
Being a permanent installation, you'll need to hire a contractor and have the final work inspected before using this system.
We also provide an impressive array of umbrella stands for our clients. These are durable and stable and provide maximum custom aesthetics.
The bases we offer operate as a two-piece assembly requiring a single carriage bolt for secure construction. The hole for securing the umbrella via bolt lies at the top of the sleeve, and a drainage hole at the bottom of the sleeve lies to prevent water collection.
The base features four ⅜" holes to secure it to the surface, and it features feet made of molded polypropylene to prevent scratching and prevent the base from resting directly on the moist ground.
American Holtzkraft team members will be happy to advise you regarding a suitable stand and base system for your particular market umbrella. We offer four aluminum stands, three size options, and three standard finish options (black, white, and almond.) You can also choose other finish options for a higher price.
The aluminum stands are shipped empty for more efficient pricing, but sand will be needed for installation. Sleeve holes will allow you to connect the stand and umbrella via a bolt. A plate underneath the base and attached to the base will keep the sleeve from being removed.
The base features polypropylene feet to hold it above ground, and wheels are standard features of the two largest bases.
Just like American Holtzkraft market umbrellas and other site furnishings, our stands and bases are built to last, even when used regularly and consistently exposed to environmental challenges.
An outdoor patio umbrella with a corresponding stand from American Holtzkraft will be secure and aesthetically unified. To learn more, the online catalog will make our products clear, and our team will also provide help with questions or order placement: (570) 539-8945.