Outdoor Pool Umbrellas
Hotels, resorts, country clubs, cruise ships, water parks, and other hospitality venues with an outdoor pool feature will need umbrellas for the surrounding deck. For the highest quality options in appearance, functionality, and custom opportunities, choose the expertise of American Holtzkraft. 
Branding through Essential Pieces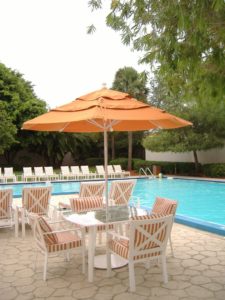 The branding opportunities that come through American Holtzkraft market umbrellas are icing on the cake. Our umbrellas fulfill all practical expectations and offer an appealing, eye-catching canvas for screen-printed logos or names. Consider the color, design, pleating, stitching, and logo placement on your market umbrellas' canvases as essential to your company's marketing plan.
American Holtzkraft can even design and provide your company exclusive rights to a unique market umbrella design.
Whether used in a permanent location or as part of a pop-up kiosk, a branded American Holtzkraft market umbrella design offers the opportunity to draw in customers and cement the brand image in their subconscious.
Most Desired Market Umbrella Features
Outfitting a pool deck with a quality market umbrella provides longevity and ease of cleaning and maintenance. Frequent use, chemical exposure, and environmental pressures demand that venues invest in site furnishings that can withstand the tests of time and use. 
American Holtzkraft market umbrellas are made of the most robust materials imaginable. From the canvas to the pole, stand, and hardware, every component will win any comparison against competitors' designs.
The poles may be either aluminum or wooden, with a custom finish chosen to complement your preferred design.
Being able to move pool umbrellas quickly is critical. Moving them from place to place or adjusting the height or tilt might be features you choose to include in your preferred design. 
Along with strength and customization should come resistance to water and sun. The purpose of the umbrella is to protect from UV rays and precipitation, so the umbrellas you purchase must do so. The fabrics that we use at American Holtzkraft resist wear, fading, UV penetration, rain, staining, and mold/mildew growth.
An American Holtzkraft market umbrella is a well-made, durable piece of site furnishing. We offer custom designs with your choice of pleating and stitching, and the canopy attachment uses high-quality, multi-laminated hubs, finials, and solid brass hardware. The color and pattern of the fabrics are entirely up to the customer.
Our umbrellas are made to withstand wind, with dual venting and a fully rotating canopy to allow winds to flow through the piece rather than against the umbrella. Wind tunnel testing of this design demonstrates that these market umbrellas can stand against 74.5 mph winds before being damaged.
Additional Services from American Holtzkraft
In addition to creating out-of-this-world market umbrellas, cabanas, daybeds, and other site furnishings, American Holtzkraft provides refurbishment and repair services, treating our products and those of our competitors. 
Florida clients can take advantage of our SAM visits. Our experts will provide an on-site inspection of the Safety, Aesthetics, and Maintenance aspects of your exterior furnishings during this process.
Elevate your venue's outdoor pool environments with umbrellas made by American Holtzkraft. We bring customization and quality to every order and back each transaction with a promise of 100% satisfaction. Learn more today by browsing our online catalog or calling (570) 539-8945.