Outdoor Restaurant Umbrellas
American Holtzkraft outdoor restaurant umbrellas are a must-have for any establishment providing outdoor dining options. We offer a wide range of design options, all made with excellent materials and innovative plans.
The American Holtzkraft Promise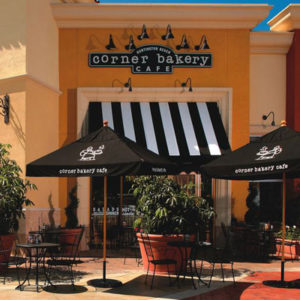 American Holtzkraft's market umbrellas are built to last, create an atmosphere of quality, protect users from environmental hazards, and mark the area's design with an anchor and branding.
Born out of innovation and a quest for quality in site furnishings, American Holtzkraft began producing market umbrellas in 1985. As a female-owned small business, we embrace the benefits of safe, high-quality products. Our home is in Mount Pleasant Mills, PA, where we take advantage of the wealth of Northern Ash hardwoods and the local talent of the Pennsylvania Dutch community. 
Shop with American Holtzkraft for market umbrellas for all hospitality industry needs, cabanas, daybeds, and custom site furnishings. We also provide repair and refurbishment for our products and our competition. Our Florida clients can opt for a SAMs visit by our specialists, where we evaluate a facility's Safety, Aesthetics, and Maintenance aspects.
Designing the Perfect Outdoor Restaurant Umbrella
Outdoor umbrellas gracing the patios of restaurants need to be sturdy, substantial, durable, and appealing. Covid-19 has spurred the use of exterior seating, and we anticipate many diners will continue to choose this safer environment. When providing seating, you'll need to consider what protections your customers will require.
American Holtzkraft provides an abundance of custom options and several lines of market umbrellas. From size and shape to color, pattern, base, and more, you'll be able to design the ideal market umbrella for your restaurant. 
We even provide options for exclusivity if you collaborate with our team to create your restaurant's own line of American Holtzkraft site furnishings. 
Elevate the outdoor spaces of your restaurant with an American Holtzkraft market umbrella design. Whether your restaurant needs are better addressed with wooden or aluminum pole umbrellas, choose American Holtzkraft. No matter the size or style, we'll be able to produce a suitable product.
Let's review a few features to consider when planning your purchase.
Sufficient for Practical Demands
The primary considerations when purchasing outdoor umbrellas for a restaurant should be the practical needs supplied by the purchase. The canopy needs to stretch far enough to protect from heat, UV, glare, and precip; this easement should be 2' on each side to account for the movement of shade throughout the day.
The position of the building in relation to the seating is another physical aspect to consider. Trees, landscaping, overhangs, and even structure height will influence the impacts of shade and weather. 
Table purchases should always precede the acquisition of market umbrellas. The shape and size of the table settings should also have considerable influence over the design selected.
Provision of Opportunities for Branding
When your market umbrellas can provide branding opportunities, your business will maximize its investment. American Holtzkraft allows restaurants and other hospitality venues to emblazon their logos and titles across the canopy of our market umbrellas in addition to custom designing the other features of the pieces.
Outdoor dining options at fine restaurants throughout the US and abroad rely on American Holtzkraft for quality market umbrellas, cabanas, daybeds, and other custom site furnishings. Explore our products and customization potential today via the American Holtzkraft online catalog or by calling (570) 539-8945.