Outdoor Umbrella Manufacturers
Are you searching for the best outdoor umbrella manufacturers for your hospitality business's site furnishings? American Holtzkraft offers customization potential, undeniable quality, and exclusive rights of use for your company if you choose.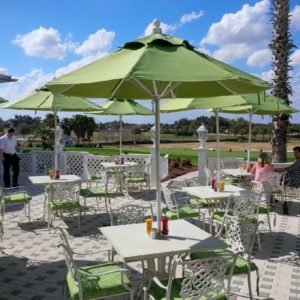 We offer the ideal market umbrella models for various purposes for hospitality venues, including resorts, restaurants, theme parks, water parks, hotels, cruise ships, event spaces, etc. Contact our team if you need help deciding which model and design best suits your needs. 
Female-owned, founded in 1985, and operating out of Mount Pleasant Mills, PA, American Holtzkraft prioritizes three key aspects of site furnishing production:
Quality materials, including Northern Ash hardwoods;

Innovative designs, including six different patented;

Community of Pennsylvania Dutch craftspeople.
We produce the ultimate market umbrellas, cabanas, daybeds, accessories, and custom site furnishings. 
The market umbrellas of American Holtzkraft are hand-crafted right here in America, with incredible attention to detail. Our pride in our products leads to customer service that does not fail, and we have patented many of our innovative designs.
We hold the record for the largest patio umbrella and the most wind-resilient market umbrella.
Our designs have earned the Awards for Design Excellence (ADEX), the most prominent elite awards program in the entire A&D industry.
POLE SELECTION
The poles of market umbrellas, either wooden or aluminum, will support the rest of the piece. Wooden poles are typically made of Northern Ash, but we also offer Western Cedar and Plantation-Grown Teak. Aluminum poles provide greater mobility and come in brushed aluminum or a powdered finish.
FABRIC SELECTION
The right fabric for the canopy of your market umbrella will be the perfect combination of durability and style. Exposure to various weather conditions is a given, and the best market umbrellas should age gracefully without a worn-out appearance. 
Mold and Mildew Protection – Market umbrellas are exposed to moisture and other elements that make mold and mildew prevalent. The fabric of canopies must be resistant to mold and mildew growth.
Fade-Resistant – Being exposed to full sun exposure is rough on fabrics. We purposefully select fabrics that won't fade over time. Avoid sun-bleaching and sun-fading when you choose American Holtzkraft. 
Our fabrics also resist UV penetration, providing the protection needed while enjoying a day in the sun but out of the sun. 
If you'd like to design and screen-print your company's logo on your market umbrellas, we can easily oblige. With hundreds of fabric options, American Holtzkraft can fulfill your color, pattern, and texture preference. We can also customize the pleating, valances, and stitching as well.
Contact Our Team
American Holtzkraft produces excellent quality in site furnishings customized to meet your needs.
We also provide an entire refurbishment center – inspecting, replacing parts, repairing, and refinishing market umbrellas from American Holtzkraft and other producers in the industry. 
SAM visits that we provide are also beneficial to hospitality venues. This service is reserved for Florida clients. We'll check out the space's SAFETY, AESTHETIC, and MAINTENANCE requirements.
At American Holtzkraft, you'll find experienced and committed outdoor umbrella manufacturers. We're here to help you order the best site furnishings for your space. Learn more by viewing the American Holtzkraft online catalog, calling (570) 539-8945, or emailing [email protected].