Outdoor Umbrella Wind Rating
An outdoor umbrella with a high wind rating is essential for areas prone to windy conditions and those who count on their investment lasting a while. American Holtzkraft provides market umbrellas with unique patented designs that can withstand winds up to 74.5 mph.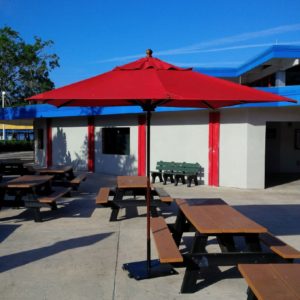 The American Holtzkraft magic works as a blend of design innovation, craftsmanship, and the highest quality materials. The Northern Ash hardwoods of Pennsylvania forests and the skilled craftsmanship of the regional Pennsylvania Dutch population allow us to leverage local material and labor resources for remarkable results. We are a female-owned company in operation for well over three decades.
The unique design of American Holtzkraft umbrellas contributes style, functionality, and durability to all sorts of outdoor spaces.
Design Your Company's Market Umbrella
The team at American Holtzkraft will be happy to help you personalize your market umbrella. Possible customizations range from the material and finish of the pole to the color, shape, size, and design of the canopy. Each piece that goes into the market umbrella is of high quality and is further treated for maximum protection from the elements when exposed to the weather.
The market umbrellas your company use can become an identifiable element of your business. We'll provide custom trims, valances, panels, and pleats to the sewing pattern of the canopy, or we can screen print the logo straight onto the canvas.
Which Size of Umbrella Is Best?
American Holtzkraft offers a range of market umbrella shapes and sizes to meet the needs of our clients. As a shade provider, the umbrella you choose should extend 2' beyond the area that needs to be shaded on all sides so that the area will be protected all day without requiring umbrella adjustments.
We thrive in creating custom site furnishings for all sorts of clients in the hospitality sector. If you have a problem with functionality or aesthetics, come to us with a concept or allow us to create one. We will resolve the issue with a customized set of site furnishings for your company's use.
Innovative Design for Wind Resilience
If you've ever tried to hold an umbrella on a windy day, you understand the possible problems for market umbrellas. American Holtzkraft offers patented design technology to solve this problem. The rotating canopy and the dual venting features reduce the pressure of the wind, allowing the umbrella to avoid damage.
Refurbishment and SAM services
American Holtzkraft provides refurbishment for aging market umbrellas and other site furnishings.
We can also provide SAMs services for our Florida clients, where we evaluate the Safety, Aesthetics, and Maintenance of your outdoor spaces and offer expert solutions to any deficiencies.
Wind resistant options, along with double reinforcements in stress positions, should make American Holtzkraft your go-to for an outdoor umbrella with a high wind rating. Wind-tunnel testing has proved that our market umbrellas will withstand winds up to 74.5 mph. Place your order today either online or by calling (570) 539-8945.