Outdoor Umbrellas with Lights
Outdoor umbrellas with lights bring romance and style by night to spaces that create comfort and coziness by day. American Holtzkraft creates quality site furnishings of all styles and sizes, customized to your preferences.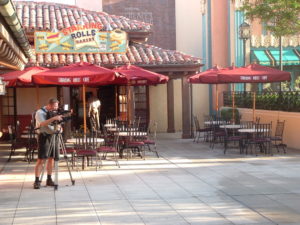 Operating out of Mount Pleasant Mills, PA since 1985, American Holtzkraft is a woman-owned business. The secret to our team's magic is combining our innovative designs with high-quality Pennsylvania hardwoods and the remarkable craftsmanship of the Pennsylvania Dutch population. The custom site furnishings, market umbrellas, cabanas, daybeds, and accessories that we produce are long-lasting and of the finest quality.
American Holtzkraft has designed and produced incredible pieces for over 30 years. We strive to provide the best quality in a custom fashion to give our clients as much choice as they need. The market umbrellas that we create come with either wood or aluminum poles and a vast selection of textile options along with stand systems that will fit any environment where you need to place the piece.
The Standard Features of Wooden Umbrellas
The market umbrellas that we produce come as octagons, squares, rectangles, and decagons in various sizes. Pro tip: measure the area that you intend to shade and add 2-feet on each side when determining the best size of market umbrella to order.
The wooden poles are preserved through a slow process of kiln drying and then sealing with multiple layers of finishes and laminated for even greater protection. The finishes available to you range from teak to natural, mahogany, Stonehenge gray, whitewash, black enamel, and white enamel.
An aluminum flush pole guard provides greater protection and limits the swelling that occurs in the stand.
The hub of the umbrella is multi-laminated and reinforced with stainless steel hardware, and the multi-laminated finial protects even more against the weather and exposure.
The high-gloss finish is flexible and durable for exterior applications, and the solid brass brackets that connect fabrics are sealed with clear lacquer. Solid brass grommets and screws affix fabric, with the screws being flush to keep the fabric from being damaged.
The heavy, solid brass eye-screw and chain connect the pin that facilitates positioning, and the stainless-steel self-locking acorn nuts secure the rib joints permanently.
If you'd like automatic opening devices, lighting, misting, or other options in your market umbrella, we can fulfill those preferences. We can also customize the pole style and color and the canopy's color, pleating, design, stitching, and logo placement. The opportunity for branding is fairly remarkable with custom orders of market umbrellas.
We also provide the strongest resistance to wind available in a market umbrella. The rotating canopy reduces stress so that the umbrella won't be damaged, and the double venting feature lets air flow during strong winds, preventing damage. In wind tunnel testing, these measures allow our umbrellas to withstand 74.5 mph winds without damage. These features are patented, as part of our seven distinctly held patents.
The potential for custom market umbrellas is limitless when you choose American Holtzkraft. From outdoor umbrellas with lights to a misting feature or simply your company's logo emblazoned on the canopy, a range of features are possible. To get in touch and place an order or queries, call (570) 539-8945 or contact us online. We're eager to provide the world's hospitality industry with appropriate and appealing functional furnishings.