Pagoda Market Umbrellas
Ensure that the guests to your theme park, water park, or other hospitality venture remember your venue for the fun times they have rather than for the heat of the sun and the burn that accompanies it. American Holtzkraft pagoda market umbrellas will help you provide these guests with shade while promoting your brand and setting a festive tone for the venue.
The Power of Pagoda Market Umbrellas from American Holtzkraft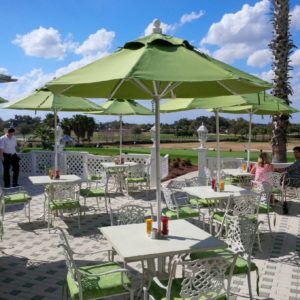 The pagoda-style market umbrella that we offer typically comes as an 8 ½' octagon "round" umbrella with eight ribs and a pole diameter of 1 ½".
These umbrellas provide a style that will differentiate the look from the traditional market umbrella. You won't be disappointed with the quality of the pagoda umbrella, and you can customize various features of the canopy.
Features Included in the Pagoda Umbrella:
The aluminum pole is made from marine-grade aluminum and tempered for strength and long life, even with frequent use and exposure to saltwater, wind, and sun.
The rotating canopy that reduces the stress placed on the hubs and pole by high winds is possible thanks to our patented technology. (Patent No. 5020557)
The pole may have a brushed aluminum finish or a white polyurethane powder coat finish.
The hardware is made of stainless steel and, along with the neoprene spacers, protects the moving parts for continued ease of use without any rusting.
In addition to these features, you may choose from various optional ones:
Automatic opening devices are based upon patents held by American Holtzkraft. (Patent No. 4928718) This feature is unavailable in combination with the rotating canopy feature.
The rotating canopy reduces the stress caused by wind on the pole and hubs. The umbrella can be left engaged during almost all weather conditions thanks to the patented design of American Holtzkraft. (Patent No. 5020557)
Strong winds can be mitigated through the double vent feature incorporated into the canopy.
In areas near saltwater spray, choose stainless steel hardware trim.
The canopy fabric can be treated with a fire-resistant additive.
You can also choose to incorporate wood toning, the finish of your choice, and a gloss protective build.
We offer the option to include an adjustable pole length, and the flush pole guard is provided in several lengths.
Choose reversed poles for hanging umbrellas.
A custom selection of fabrics, stitching, pleating, and logo placement is available.
Lighting is available in various designs.
Come to American Holtzkraft for all of your hospitality business's site furnishing needs. We can create the custom pieces you need, from market umbrellas in all designs, sizes, and shapes to daybeds, cabanas, accessories, and more.
In addition, we offer refurbishment services for your aging market umbrellas. We specialize in replacing stock parts, repairing, refinishing, and sewing to return your pieces to as-new condition, and we'll deliver them when complete.
About American Holtzkraft
American Holtzkraft was established in 1985 to create quality market umbrellas with innovations that revolutionize the function and durability of the pieces.
Pagoda market umbrellas from American Holtzkraft are the ideal choice for theme parks that would like to establish a whimsical atmosphere while providing shade and structure for seating areas. We urge you to browse our online catalog for the large and diverse range of pieces we create, and you can call us at (570) 539-8945.