Pagoda Patio Umbrellas
Set a festive tone with pagoda patio umbrellas from American Holtzkraft. The quality, longevity, and aesthetics of our products are without comparison.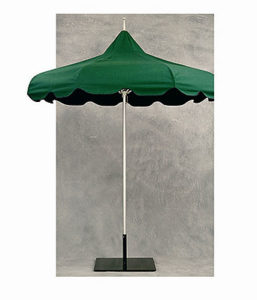 American Holtzkraft merges innovation, quality, and expert-level workmanship to create high-end market umbrellas of all kinds, cabanas, daybeds, and other site furnishings. Every material used to construct our pieces is of the best quality, from the Northern Ash hardwoods to the Sunbrella fabrics, multi-laminated hubs and finials, and solid brass hardware. We hold seven distinct patents and take full advantage of the bounty of Pennsylvania Dutch artisans in the area.
Since our beginning in 1985, we've earned awards and a reputation that prove the quality of our efforts, design, and customer service. Order the site furnishings you need for your hotel, theme park, water park, resort, or other hospitality venues, and rely on us to provide pieces that will withstand the tests of time, exposure, and use. When the time comes to retire the units, allow us to revive them with our refurbishment services to extend their use further.
The Pagoda Style Patio Umbrella
The pagoda-style umbrella from American Holtzkraft is ideal for theme park use, allowing the setting to be permanently festive and functional. These umbrellas are made with unique features, a spring-loaded finial to maintain fabric tautness when open, a rib framework of ¾" tubular aluminum, heavy 1/16″ wall thickness, and the other typical fine materials we employ. Reinforced pockets keep the canopy in position to the frame ribs, and the pole can be either polished aluminum or any RAL powder coat finish (subject to an upcharge).
Consider the following list of details about the pagoda-style patio umbrella:
The aluminum pole is marine grade and tempered for long life and incredible strength.
Patent No. 5020557, held by American Holtzkraft, allows for a rotating canopy that reduces the stress on the hubs and the pole during windy conditions.
The canopy is guaranteed not to fail due to the reinforced pockets that connect the canopy to the frame's ribs.
The stainless steel hardware and neoprene spacers provide protection from corrosion for all of the moving parts.
The pole features either a brushed white polyurethane powder coat finish or an aluminum finish.
Incorporate the Theme of Your Theme Park
Yet another advantage to choosing American Holtzkraft to create your market umbrellas or other site furnishings is the opportunity for customization. Reach out to the friendly team of specialists here to help custom design your pagoda umbrellas.
The customization choices we offer for these umbrellas can range from the fabric color to the logo placement and more. These theme-park-friendly umbrellas can help make your umbrellas stand out and cement your branding in your customer's subconscious.
As your patrons enjoy the park, provide a place for families to rest and continue making memories that don't involve unshaded heat, exposure, and sunburn! The right size for your pagoda umbrella will include two feet of extra room on each side. This will provide all-around glare protection throughout the day.
If you're looking for stand-out, high-quality pagoda patio umbrellas, come to American Holtzkraft. You can reach out to us for help custom-designing the pieces that your business deserves by calling (570) 539-8945.