Patio & Market Umbrellas
Looking for market & patio umbrellas for your hospitality business that are built to last? American Holtzkraft creates hardy site furnishings made according to innovative designs, from the highest quality materials, and by skilled and experienced hands.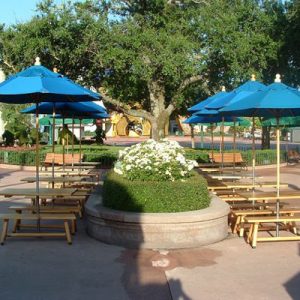 Operating out of Mount Pleasant Mills, PA, since our founding in 1985, American Holtzkraft takes pride in producing American-made products with all of the commitment to quality that follows. We produce a wide range of market umbrellas, cabanas, daybeds, and custom site furnishings. The area where we operate offers a wealth of Northern Ash hardwoods and a significant community of skilled Pennsylvania Dutch craftsmen.
The products that we deliver resolve issues within all sorts of hospitality spaces. Our team can design a custom suited set of furnishings for your business, and we offer exclusive rights of use for your company's design concept. 
The Custom Potential for American Holtzkraft Umbrellas
A business won't grow without a branding presence. As part of a market campaign, American Holtzkraft can further a branding concept, either established or new. The canopies, colors, and overall design can fit perfectly within the branding scheme, as a subtle addition or an explicit advertisement.
American Holtzkraft specializes in creating made-to-spec market umbrellas and other site furnishings. Every aspect of your market umbrellas can be customized from the finish of the pole to the pleating and stitching of the canvas. Build your brand through customizations of pieces that you need for commercial functionality.
Options for Upgrades
As you choose the market umbrella for your hospitality venue spaces, you may choose to upgrade your order to specialized models that provide greater benefits. 
We offer lighted models as well as the most wind-resilient models on the market. Other options include umbrellas with synthetic thatch roofs, automatic opening and closing upgrades, and thematically coordinated cabanas, daybeds, and other site furnishings.
Our wind-resilient market umbrellas are proven to resist any damage before the winds reach 74.5 mph during wind-tunnel testing.
If price is of concern, be assured that our products are cost-effective and come with a surprisingly high level of customer service. When mistakes occur, we make it right, always. We consider failing to satisfy our customers an intolerable failure.
As you shop for American Holtzkraft market umbrellas, consider the level of quality that we provide. Our high-quality products are easy to maintain and resistant to corrosion, fading, staining, tearing, and other damage. Your market umbrellas will last season after season. 
American Holtzkraft Market Umbrella Maintenance
Steps to maintain hospitality venues are key to keeping clientele impressions appropriate. American Holtzkraft market umbrellas are made to resist mold, rust, and staining. They're easy to clean and even repair in the field.
American Holtzkraft Market Umbrella Safety
We prioritize the safety of our products above all. For this reason, we no longer produce cantilever market umbrellas. All of our designs are safe, and we offer a range of stanchions and bases to maximize the safety of the installation as well. 
The market and patio umbrellas you need for your hospitality business await your order here at American Holtzkraft. View what we have to offer in our online catalog, and give us a call at (570) 539-8945 for help with design or ordering. Our expertise and experience will benefit you in the concept and space planning for your entire site furnishing needs.