Patio Umbrella Base
The safety and functionality of the patio umbrella used in your venue's exterior spaces rely on the best possible base system. American Holtzkraft offers an array of options to stabilize site furnishings securely in any environment.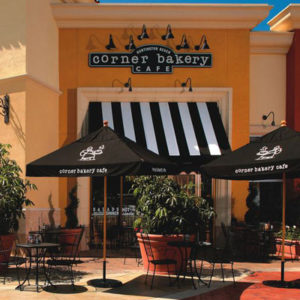 We at American Holtzkraft produce a wide range of high-quality commercial umbrellas, cabanas, daybeds, and other site furnishings for the hospitality industry.
History of American Holtzkraft
Founded in 1985, American Holtzkraft is a brainchild of innovation and dedication to quality. As a small, female-owned company, we pride ourselves on the extent of our customer service and the global footprint we've established over the past decades.
Our headquarters in Mount Pleasant Mills, PA, provides us with a home base close to the natural resources that we use. Choose American Holtzkraft because we stand out in several areas:
Innovation – 6 different patents, including those related to strong wind resilience
Components – locally sourced Northern Ash hardwoods, solid brass components, and marine-grade aluminum for ultimate quality and durability
Craftsmanship – hand-crafted expertise provided by the local Pennsylvania Dutch population
Customer service – a total commitment to customer satisfaction 100% of the time
Essential Benefits of Commercial Umbrellas
The outdoor patio of any hospitality venue requires quality market umbrellas for various reasons. First, the umbrellas serve as a shield from the heat and glare of the sun for patrons as they enjoy the venue. Second, these umbrellas provide a focal point for the area's design, even at night when you choose our lighted canopy features.
The patio umbrellas you buy from American Holtzkraft are built for performance and durability. From design to build, we strive to provide products that will perform well for many years.
In addition to performance, we offer customization. For example, buy from American Holtzkraft for a personalized order of market umbrellas or other site furnishings; we can even provide a design exclusively used by your company, as we do for many of the major hospitality venues in the nation and world.
American Holtzkraft Design Options
American Holtzkraft produces market umbrellas with several options. To see for yourself, we invite you to browse our online catalog.
The first decision you'll likely make is whether an aluminum or wooden pole is more appropriate. Most of our wooden umbrellas are made of Northern Ash hardwoods, the same wood used in strong baseball bats, but we also offer Plantation-Grown Teak and Western Cedar.
Preparing the wood of your choice involves kiln-drying and then sealing the wood with several layers of sealant, followed by the finish of your choice. Aluminum poles are also protected with marine-grade sealant and are available in a few different finishes.
After designing the pole, you'll need to select particulars related to your umbrella's canopy. These choices set the tone: color, pattern, pleating, stitching, logo placement, size, and shape!
Finally, the stand and base for your market umbrella must be secure and safe for your chosen environment. American Holtzkraft provides a range of options, including steel, aluminum, concrete-filled, and more.
To secure your patio umbrella with a secure and sound base, turn to American Holtzkraft. We offer a wide range of options and exceptional customer service. If you'd like to order any of our products or arrange for repair or refurbishment, call us at (570) 539-8945.