Patio Umbrella Manufacturers & Suppliers
Looking for superior patio umbrella manufacturers & suppliers? American Holtzkraft produces high-end, durable, and suitable site furnishings with diverse features. Our aluminum or wooden commercial umbrellas, daybeds, cabanas, accessories, and other personalized site furnishings are a smart investment for hospitality venues.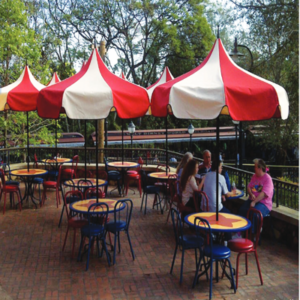 World-class market umbrellas from American Holtzkraft will complement your hotel, resort, or restaurant patio space. Beyond incredible visual appeal, we provide incredible strength for any weather condition. We use aluminum flush pole guards, stainless steel hardware, and solid brass brackets, grommets, and screws.
We put together the components of our market umbrellas in such a way that the pieces work well, without causing damage. The design also welcomes in-field repair when needed.
American Holtzkraft calls Mount Pleasant Mills, PA, home, and we produce our goods in the United States. We're committed to the finest materials and methods, and we leverage local resources in the process.
With seven different patents and a commitment to customization, American Holtzkraft market umbrellas are unique, quality pieces that will benefit your venues for many seasons to come.
The most wind-resilient market umbrella in the world is actually an American Holtzkraft model. A dually vented and fully rotating canopy allows this umbrella to stand in high winds up to 74.5 mph before any damage occurs. We have documented wind tunnel testing to demonstrate this capacity.
The strength of our wooden umbrellas comes from the Northern Ash timber that we slow dry with a kiln and then protect with several layers of laminate and sealant in various finishes. If you'd rather have a different choice of timber, opt for Western Cedar or Plantation Grown Teak.
American Holtzkraft market umbrella canopies are custom-designed in the color, texture, pattern, pleating, valance, and logo placement that you choose. These personalizations offer a unique branding opportunity, and we can provide exclusive use of a design that you create.
Collaborate with the team here at American Holtzkraft to make sure that you receive a set of umbrellas and other site furnishings that perfectly suit the environment, function, and brand of your company.
In addition to feature personalization, American Holtzkraft offers a variety of sizes and shapes in our market umbrella models.
When choosing the size, keep in mind that the measurement refers to the width from tip to tip, not height. By measuring the space and adding a couple of feet to this measure, the area covered by the umbrella will remain shaded throughout the day.
The shapes available for American Holtzkraft market umbrellas include octagon, rectangle, square, and decagon. Accommodate dining, pool lounges, shopping kiosks, or event tables with appropriate market umbrellas with functional and unifying design.
When the site furnishings that you have in your exterior design look a bit worse for wear or fail to perform appropriately, reach out to the team at American Holtzkraft for refurbishment services. We will inspect, repair, refinish, and recanopy/reupholster site furnishings made by American Holtzkraft or our competition.
We provide our Florida clients with SAM visits. Safety, Aesthetic, and Maintenance features of these exterior venues can be evaluated and remediated.
As patio umbrella manufacturers & suppliers, American Holtzkraft provides the ultimate in quality for functionality, branding, and exterior aesthetic design. Every hospitality venue can benefit from investments in our site furnishings. Explore the options further with our online catalog, project gallery, or a call placed to (570) 539-8945.