Patio Umbrella Stand
A patio umbrella is only as good as its stand, and with American Holtzkraft, you get the best of both. We offer several styles and options for stands and stanchions, so we can complement any market umbrella design and setting.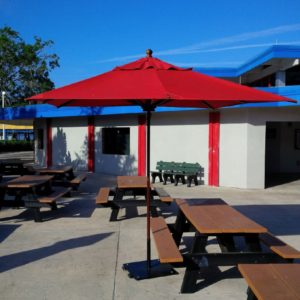 For market umbrellas to serve their purpose, they must provide the coverage needed to shade the entire area in question. In addition, the stabilizing portion of the market umbrella must be strong enough to anchor the umbrella in place safely.
The Choice of American Holtzkraft
American Holtzkraft prioritizes quality for our clients. Since 1985, quality in design, materials, and craftsmanship have come together to create market umbrellas, daybeds, cabanas, and custom site furnishings that are worthy of any hospitality business.
Mount Pleasant Mills, PA, is where you'll find our headquarters and the base of our operations. Here, you'll also find two key elements of our success – the bountiful forests of Northern Ash hardwoods and the Pennsylvania Dutch population that supplies brilliant hand-crafted skill.
Producing high-end site furnishings isn't all we do. We also specialize in repairing and refurbishing all types of market umbrellas, including the American Holtzkraft brand and those of our competitors.
In Florida, clients can select SAM site visits, wherein we will evaluate and remediate deficiencies in the Safety, Aesthetics, and Mechanics of exterior features.
Custom Designed Market Umbrellas from American Holtzkraft
Catering to our customers through custom design, American Holtzkraft market umbrellas are adjustable in terms of the following features:
Wooden or aluminum pole
Stand and base system
Pole finish
Canopy size
Canopy style
Canopy shape
Canopy color
Canopy texture
Canopy design
Canopy stitching
Canopy pleating
Logo design and placement
For assistance when planning the design and order of your company's market umbrellas, reach out to our team. We have the experience to make future-focused suggestions regarding space, use, and more.
We custom design many qualities, but some features are standard. Our products are hard-wired to withstand the tests of time, exposure, and use. For example, our canopy fabrics resist fading in the sun, mildew and mold growth, and tearing.
The wind-tunnel testing that demonstrates the wind-resilience of market umbrellas and other site furnishings has shown our products can withstand winds up to 74.5 mph before the wind speeds cause damage. We accomplish this wind resilience through dual venting and a fully rotating canopy.
The strength of the canopy fabric and the pole are essential to American Holtzkraft market umbrellas, and supporting it all are stands and bases. We supply systems that will work permanently affixed in concrete, temporarily on the beach, or the grounds of a venue. Our corrosion-resistant, sturdy stands, bases, and stanchions will ensure that your market umbrellas stand tall and upright.
The Customer Support from American Holtzkraft
American Holtzkraft products are of remarkable quality, but human error is bound to happen. So if you're disappointed in our products or service, let us know, and we'll make the situation right as soon as possible.
When you purchase patio or pool umbrella products from American Holtzkraft, the stand systems accompanying them will be the same impressive quality as the products they support. Explore the various options we offer by browsing our online catalog or calling our team at (570) 539-8945.