Patio Umbrella with Aluminum Poles
Outfitting your venue's patio with an American Holtzkraft umbrella design featuring aluminum or wooden poles is a great way to incorporate quality functionality and aesthetic appeal.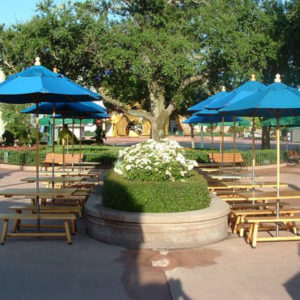 The quality materials and smart design of American Holtzkraft products allow us to lead the market. In addition to the innovation of our designs that have earned us six patents, we leverage Northern Ash hardwoods grown in the area and the Pennsylvania Dutch community's skilled workmanship.
The fabrics that make our canopies are strong. They resist UV rays, fading, staining, mold/mildew, and tearing, and the pieces that hold the elements together are made of solid brass and laminated with multiple layers. Our designs are meant to stand strong against exposure to the elements, windy conditions, and frequent use.
The ADEX, or Awards for Design Excellence, recognizes the quality of our design, and we've been honored with several of these awards.
Customize the Umbrella Design
American Holtzkraft allows you to specify the parameters of several features. These custom options will enable you to create unique site furnishings; we even provide exclusivity options for companies to be the sole user of their designs.
The most evident personalized options will be on the canopy of a commercial umbrella, but we also allow clients to choose the pole composition and other features. On the canopy, select all of the following:
Stitching

Pleating

Color

Logo placement

Trim

Valances 
Whether the branding you choose is implicitly conveyed through color choices or explicitly with a bold logo, the overall design will be part of an overarching marketing campaign.
The Umbrella Size Chosen
Market umbrellas' shape and size will depend on placement and shade. By adding a couple of feet to the area that needs to be shaded, you'll be able to keep it shaded even when the sun moves through the sky over the course of a day.
Consider the following guidelines when determining size:
Small tables 30" and under pair well with 6-6 ½' market umbrellas;

Four-person settings, a single chaise lounge, and tables up to 2' wide welcome 7-8' market umbrellas;

Two chaise lounges, tables up to 54" wide, and tables that seat up to 6 people suit 9-10' market umbrellas;

Dining sets for up to 14 seats or a table up to 84" welcome 11' market umbrellas.
The appeal of Aluminum Pole Market Umbrella Designs
Aluminum market umbrellas are strong and long-lasting, with a solid aluminum hub and ribs connected with stainless steel pins and large screws. The robust design is excellent for standing strong against various weather conditions.
Available features for American Holtzkraft aluminum umbrellas include:
Solid aluminum finial

Tempered, marine-grade aluminum pole

Rotating canopy to mitigate stress on the hub and pole

Brushed aluminum finish

Stainless steel hardware and neoprene spacers

Double-stitched reinforced pockets

Double vent 

Unbreakable pultrusion ribs

Powder coat finish
The wind-resilient model has a fully rotating canopy and dual venting. This system permits the air to flow through rather than against the market umbrella, a design that has proven, during wind-tunnel testing, to stand up to 74.5 mph winds before any damage occurs.
American Holtzkraft stands ready to design a patio umbrella with aluminum or wooden poles. For a simple purchase process and stellar customer service experience, check our online catalog and call (570) 539-8945.