Patio Umbrella with Lights
American Holtzkraft produces various custom site furnishings for hospitality venues. Whether you need cabanas or daybeds, a patio umbrella with lights, or market umbrellas to accommodate large areas for seating, we can accommodate your needs with durable and expertly crafted pieces.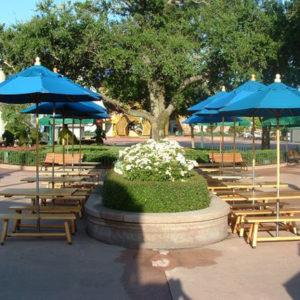 The site furnishings we deliver are high-end and effective for creating comfort, protection, and branding while delivering functional protection from the sun's glare, unwelcome weather, and UV rays.
About American Holtzkraft
Our headquarters in Mount Pleasant Mills, PA, provides American Holtzkraft with proximity to an abundance of resources to produce remarkable site furnishings. We are a woman-owned business, founded in 1985, and committed to producing safe market umbrellas that appeal to the aesthetics and functions of hospitality businesses.
To manufacture these products, we make the best use of Northern Ash hardwoods, the hardest of the woods in North America, and the incredible workmanship of the local Pennsylvania Dutch population. The results are works of art that last for years to come.
The products that we produce include market umbrellas, cabanas, daybeds, and other bespoke site furnishings, and the services that we offer include repair and refurbishment services and SAM (Safety, Aesthetics, and Maintenance visits) for our Florida clients only.
Well-Designed Market Umbrellas
American Holtzkraft market umbrellas come in a diversity of styles, sizes, shapes, and aesthetics. We can even provide LED light features built into the market umbrella.
The LED lighting option features 4-volt wiring and LED long-life bulbs. Each of the LED lights are concealed and carefully placed in the umbrella ribs. The down lighting option can be incorporated into the rotating canopy, wind-resilient market umbrella design. This design can create the perfect romantic ambiance for resorts, restaurants, and other hospitality businesses.
When choosing the market umbrellas for your business, reach out to our team for expert guidance. All designers and executives are open to suggestions, as we welcome opportunities for customization.
Our products are resistant to wind, fading, wearing, and staining. Consider purchasing from our catalog to be an investment in your company for the long haul.
American Holtzkraft market umbrellas come with either aluminum or ash hardwood poles. They're protected with marine grade varnish and multiple layers of finish.
The market umbrellas from American Holtzkraft are made of durable fabric in the design and color that fits with your brand. We can also pleat and stitch the fabric how you choose. Our umbrellas are made with multi-laminated hubs and finials with solid brass hardware. Every detail is perfected in American Holtzkraft market umbrellas.
American Holtzkraft market umbrellas are also the most wind resilient on the market. During wind tunnel testing, our umbrellas have been proven to withstand up to 75 mph winds before suffering any damage.
The aluminum features of the market umbrella promote strength throughout the design. Our patented designs make on-site repair easier with engineered ribs that attach to the hub with a pin and screw system made of steel.
If you're considering market umbrella sources, American Holtzkraft's reputation speaks for itself. We make it a point to satisfy every customer, surpassing expectations with every transaction.
Create an atmosphere worthy of the finest romantic drama with a custom patio umbrella with lights. American Holtzkraft delivers quality, aesthetics, and durability that impresses guests and patrons. Design your custom site furnishings today by calling (570) 539-8945.