Patio Umbrellas Made in the USA
For strong, long-lasting, and attractive patio umbrellas made in the USA, look no further than American Holtzkraft. We're able to accommodate any specific space with umbrellas that surpass the aesthetic and functional needs of your business.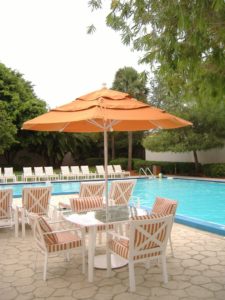 In 1985, American Holtzkraft began producing quality market umbrellas. With headquarters in Mount Pleasant Mills, PA, we avail ourselves of the ample supply of Northern Ash hardwood and the human power of the Pennsylvania Dutch skilled artisans and craftsmen. We make the best market umbrellas, daybeds, cabanas, site furnishings, and accessories available.
The Best Method for Choosing the Size of Umbrella
To make the most of the outdoor umbrellas you purchase, the sizing needs to be accurate. The width of the canopy determines this factor instead of how tall the umbrella stands. When measuring our market umbrellas, you'll stretch the tape from tip to tip on the ribs of the umbrella.
The umbrella you choose to place in a specific place should be two feet wider on all sides. Generally, you'll select a shape that parallels that of the area. We offer octagonal, decagonal, rectangular, and square umbrellas. Reach out to our team if you'd like a bit of help establishing the right size and creating the design.
The Undeniable Strength of American Holtzkraft Umbrellas
The American Holtzkraft offers either wood or aluminum market umbrella poles. The wooden poles are made of the hardest hardwoods in the US, and they're kiln-dried, sealed, and finished with multiple layers of protection.
The stanchion and stand options we provide are very sturdy. We offer a setup designed to stand tall in all situations.
The Wind Resistance of American Holtzkraft Market Umbrellas
The patents we hold allow our market umbrellas to withstand the stresses of high wind environments effectively. Dual venting and rotation of the canopy around the umbrella pole are two methods for withstanding the stress. You can see for yourself the results of wind tunnel testing that verify our umbrella's ability to withstand winds of 74.5 mph before suffering any damage.
Custom Market Umbrellas from American Holtzkraft
Customization sets American Holtzkraft apart from other suppliers of market umbrellas. The custom designs that we make possible provide an excellent opportunity for branding and elevation of outdoor spaces. Impress your customers with the right colors, embellishments, and logo placement to enhance your brand image and draw in customers.
Refurbish Aging Market Umbrellas
American Holtzkraft takes pride in our umbrellas. Before you trash them as they age, call us for repair and refurbishment. You'll save money and send less trash to the landfill. Sustainably doing business is essential in this day and age of ecological priority. We stock replacement parts, specialize in inspection and repair and offer maintenance services.
Our Florida clients should call us to schedule a SAMs visit. During this consultation, our specialists will check for Safety, Aesthetics, and Maintenance needs and remedy them.
The appearance, safety, functionality, strength, and durability of the American Holtzkraft patio umbrellas are perfect examples of how quality goods are made in the USA. Our clients benefit from an improved environment with a low price and easy maintenance from theme parks to hotels, restaurants, and other hospitality venues. Learn more or place an order by calling (570) 539-8945.