Patio Umbrellas Near Me
Searching for "patio umbrellas near me"? The most appealing, long-lived, and appropriate patio umbrellas are available when you choose to order from American Holtzkraft. We offer quality wood and aluminum market umbrellas along with cabanas, daybeds, accessories, and other custom site furnishings.
Choose American Holtzkraft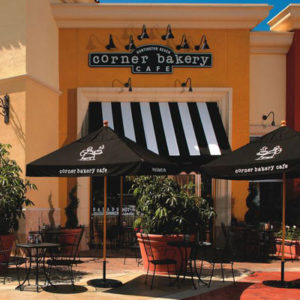 American Holtzkraft market umbrellas are markedly beautiful, but they have additional features that are critically important. For use in all-weather conditions, we employ stainless steel hardware; aluminum flush pole guards; and solid brass brackets, grommets, and screws. The screws are flush in order to make sure that the fabric is protected from damage.
We make all of our products right here in the USA. In fact, they're handcrafted with extensive attention to every detail and using the finest possible materials. Being headquartered in Pennsylvania, we're able to leverage the artisanship and expertise of the Pennsylvania Dutch population. We hold seven patents, so many of the features of our market umbrellas are entirely unique to our products.
One model in particular that is quite remarkable is our wind-resilient market umbrella. With dual venting and a rotating canopy, this umbrella has been proven to withstand up to 74.5 mph winds during wind tunnel testing.
Northern Ash hardwoods, grown here in the US, are used to make the wooden poles for our market umbrellas. This wood is the hardest of all the trees that grow in North America.
The fabrics and colors of American Holtzkraft market umbrellas can be custom chosen by clients. They're available in different colors, designs, patterns, and even with the option to add your logo. Pleating, folding, stitching, and other canopy adjustments can also create a unique market umbrella for your venue. Take this branding opportunity to cement your logo firmly in the mind of guests, patrons, and even passers-by.
Personalization is a significant difference between our umbrellas and others. We're happy to create any custom piece that you need. From concept to creation, work with our team to collaboratively fulfill the need for your business's outdoor area. Having unique pieces of quality speaks volumes about the business itself.
Buy the Right Size
The outdoor umbrellas that you buy for your business should be the appropriate size for the function of the umbrella. We suggest that you measure the space and add 2' on all sides. This adjusted measurement will be the width of the umbrella you need. The extra shade will keep the entire area shaded even as it moves through the day.
We offer a range of shapes as well. From octagons (round) to rectangle, square, and decagons, a variety of shapes can add texture and interest to your outdoor design. Whether you need to accommodate outdoor dining, pool relaxing, or theme park resting, our umbrellas can fully meet the needs of your business while contributing greatly to the cohesiveness and design of your space.
Additional services that we offer include repair and refurbishment of your outdoor pieces as well as SAMs visits for our Florida clients. A SAM visit checks for Safety, Aesthetics, and Maintenance concerns and then works to remediate any problems.
American Holtzkraft offers patio umbrellas the world over, so we're always the answer to all "near me" searches. Explore the various pieces we typically build by perusing our online catalog, or reach out to speak with us by calling (570) 539-8945 or contacting us online.