Patio Umbrellas With Wooden Poles
For patio umbrellas with wooden poles that will stand tall against the hazards of the environment, come to American Holtzkraft. Our products lead the hospitality industry, producing American-made, durable, custom site furnishings that will welcome your guests stylishly and comfortably.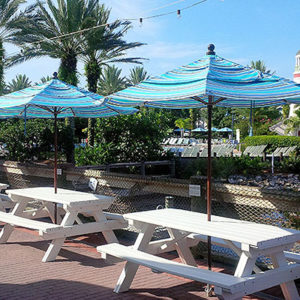 Headquartered in Mount Pleasant Mills, PA, American Holtzkraft produces high-quality umbrellas, cabanas, daybeds, and other custom site furnishings. We're a female-owned small business catering to hospitality venues around the globe. From theme and water parks to hotels, restaurants, and other venues, we provide the ideal furnishings for their exterior settings. 
We leverage our proximity to locally grown Northern Ash hardwoods and the craftsmanship of the Pennsylvania Dutch population to produce outstanding results.
Custom-created patio umbrellas from American Holtzkraft are meant to meet the needs of our clients, but we place safety above all else. 
Structuring Your Order for Market Umbrellas
American Holtzkraft provides many different options and customization opportunities for customers, and we'll even create designs exclusively for your company's use.
The market umbrellas you purchase from us will be designed according to your specific needs, with shade and protection for your guests. They can also elevate the area and branding for your company. 
Our process makes design simple. The first step in the process will be to determine how many market umbrellas you require and the shape and size they should be. Let us help as you select the particulars regarding your order once you've measured the area and estimated the capacity.
The patio umbrella you require will likely need to be round or octagonal, but we also welcome orders for rectangular, square, and decagon market umbrellas. To determine the best shape for your space, choose the table or setting and then mirror the umbrella to that shape.
With the shape in mind, add a couple of feet to the diameter. This additional coverage will allow the area to remain shaded even as the sun and the shade move from one direction to the next. 
Strong and true, we produce the most wind-resilient market umbrellas available. They rotate fully and have dual venting, withstanding winds up to 74.5 mph before being damaged in wind-tunnel testing.
Choose between a wooden or aluminum pole. If you go with wood, we usually use Northern Ash hardwoods, but we also offer Plantation-Grown Teak and Western Cedar. No matter the wood, it is slow-dried in a kiln and protected with multiple layers of marine-grade finish in the shade of your choice.
American Holtzkraft holds six different patents for superiorly innovative market umbrellas.
The customization potential of your American Holtzkraft market umbrella will be quite impressive. You can choose specifics regarding many aspects of our pieces. Characteristics that can be specified include the size and shape of the umbrella as well as the canopy's color, stitching, valances, logo placement, and pattern; the composition and finish of the pole; and the base and stand to secure the umbrella.
More from American Holtzkraft
In addition to the umbrellas, daybeds, cabanas, and other site furnishings we design and produce, we also offer SAM visits to Florida clients and repair and refurbishment services for all products, including our competitors' creations.
Patio umbrellas with wooden poles from American Holtzkraft offer durability and aesthetic appeal despite environmental exposure and time. Our custom site furnishings will improve your customers' impressions and enjoyment of your venue's exterior spaces. Learn more today by calling (570) 539-8945 to speak with our team.