Patio Umbrellas
Prestigious hospitality venues require the best patio umbrellas, and American Holtzkraft products fit the bill. Our site furnishings allow for the elevation of lounging areas, spots for outdoor eating, and event sites. We regularly cater to the needs of hotels, restaurants, theme and water parks, and other hospitality venues by producing the best commercial umbrellas, cabanas, daybeds, and other site furnishings.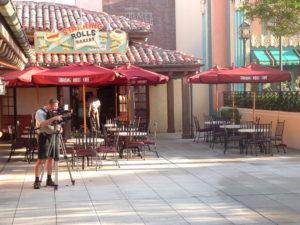 Should you compare the quality of our commercial umbrellas with other players in the industry, you'll find that we outperform in terms of materials, craftsmanship, and innovation. The custom options that we facilitate take our excellence even further.
Welcome Guests with Comfortable Features
The best commercial umbrella for your venue will depend on the area and purpose of the space you plan to shade. Our canopies protect from UV rays, sun glare, heat, and precipitation, while the sturdiness of the stand and pole keep the entire system safe.
Easy Maintenance and Durability
American Holtzkraft market umbrellas are easy to care for due to how they're made. All of the materials are chosen and treated for ideal durability even with exposure to heat, wind, precipitation, use, and sun during regular use. The canopies are easily cleaned, and the components promote easy repair onsite. We even provide refurbishment services to provide your investment with a second life after the first one ends.
Investing in Quality
Consider this purchase as an investment and buy quality pieces from American Holtzkraft. When getting a "deal," make sure that you don't overpay by repeatedly purchasing the same products.
American Holtzkraft deserves its position as a leader in the commercial umbrella industry with the finest materials, innovation, and craftsmanship. Our commitment to customer service extends to every transaction. If problems arise, we respond with courtesy and make all transactions satisfactory.
The Birth of American Holtzkraft
An American-made company founded in 1985, American Holtzkraft produces the ultimate in site furnishings for the hospitality market. Headquartered in Mount Pleasant Mills, PA, we make good use of the area's natural and human resources, including the Northern Ash hardwoods and the Pennsylvania Dutch artisans.
Hospitality venues looking for high-end, custom site furnishings come to American Holtzkraft for our hand-crafted pieces. We hold six distinct patents, including all of the following:
Thatch umbrella
Fan umbrella
Misting umbrella
Two-piece self-locking pole stand
Rotating canopy umbrella
Automatic opening umbrella
The wind-resilient model that we offer features dual venting and a rotating canopy for the most resistance to the pressures of high winds. Wind tunnel testing proves this model can withstand winds up to 74.5 mph before any damage occurs.
Canopy Customization through American Holtzkraft
The canopies featured on American Holtzkraft market umbrellas are made of strong and weather-resilient materials. They're easy to clean and resist mold or mildew growth, so once you custom design the canopy, it will be a testament to your brand for many seasons.
We offer custom options ranging from design to color, pleating, stitching, shape, size, and logo placement.
Custom patio umbrellas from American Holtzkraft should be the only choice for your hospitality business's outdoor spaces. After browsing our catalog, reach out via email at [email protected] or phone at (570) 539-8945 to discuss your design and business needs. Our team is ready to assist!