Pool Deck Umbrellas
As patrons luxuriate on the pool deck of high-end resorts and hotels, the umbrellas provided should be worthy of the venue. American Holtzkraft produces the ultimate in site furnishings – including market umbrellas, cabanas, daybeds, and custom pieces.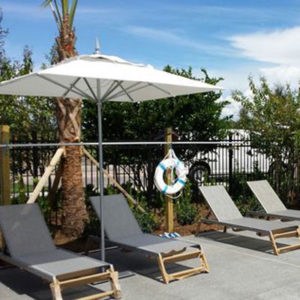 American Holtzkraft clients gain a host of benefits when they choose our market umbrellas:
Ideal aesthetics
Flexible functionality
Long Term durability
Affordability
Repair and refurbishment
100% customer satisfaction
The Role of Pool Deck Umbrella Canopies
The hospitality sector requires pool deck umbrellas to anchor the space's design, incorporate branding motifs, and shield guests from the sun's glare, heat, and UV rays.
We can custom-create the canopy and even assist in designing a logo. Every aspect of your canopy can be personalized, including the shape and size, color and pattern, pleating and stitching, and logo design for branding purposes. The only non-negotiable aspect is the fabric.
American Holtzkraft's fabric resists fading, staining, wearing, and mildewing. In addition, the easily cleaned and maintained canopies will keep staff hopping to provide customer needs rather than scrubbing fabric.
American Holtzkraft Highlights
American Holtzkraft is a small business founded and owned by women. The basis for our operations since 1985 has been committed to the ingenious design and high quality.
Investing in American Holtzkraft market umbrellas and other site furnishings is a wise move for hospitality endeavors.
The Choice of American Holtzkraft Umbrella Options
A broad swathe of options regarding market umbrellas is available here at American Holtzkraft. The size and shape of your market umbrella should suit the area you need to shade and the purpose your umbrella will serve. Therefore, we provide a wide range of sizes and square, rectangle, octagon (round), and decagon canopy options to mirror the seating area with the canopy.
As you make these decisions, factor in an extra two feet of size in addition to the area you'd like to shade. The easement allows for continued protection throughout the day as the sun moves.
Another choice to make is the pole. Whether the pole is aluminum or wooden will depend on where it will be used and how frequently the umbrella will move. Most of our wooden umbrellas are made from Northern Ash, but we also provide other wooden options, including Plantation-Grown Teak and Western Cedar.
The American Holtzkraft team has the experience and skill needed to help clients as they plan a purchase. We can even provide a design that's exclusive to your company.
American Holtzkraft has a worldwide footprint, providing market umbrellas for many of the major hospitality brands in the industry. In addition, clients can rely on us to offer site furnishings that meet their needs in form and function.
American Holtzkraft Services
American Holtzkraft provides services for our clients. We have a dedicated repair and refurbishment space where we inspect, repair, refinish and re-canopy our products and those of our competitors.
We also provide Florida clients with SAM visits, where we will evaluate and remediate issues regarding the business's safety, Aesthetics, and Maintenance demands.
For well-made, custom pool deck umbrellas, come to American Holtzkraft. Our catalog is full of incredible options and products, and we encourage you to place an order by phone at (570) 539-8945 or via email at [email protected].